Bayou Bienvenue Wetlands
The Bayou Bienvenue Wetlands Triangle of today is what is called a "ghost swamp". But it once was part of the central wetlands system that ran from the Lower 9th Ward all the way to Lake Borgne. • 2677 Caffin Ave, New Orleans, LA 70117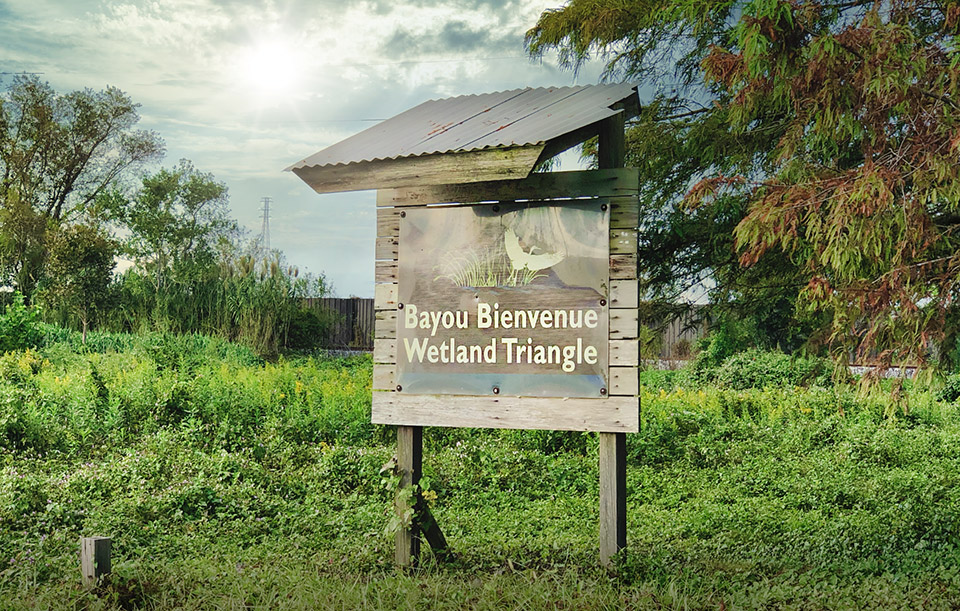 Go for: Unique views of New Orleans' watery surroundings, while still in the city
—
When we hear the word bayou, it is difficult to not think of the American South, in particular, South Louisiana.
Growing up in New Orleans, we are keenly aware being surrounded by water. Lake Pontchartrain to the north, the Mississippi River cuts a serpentine path through the city, and bayous buffer us to the East and West.
Or, at least they used to do so.
The Bayou Bienvenue Wetlands Triangle is unique among local bayous. It butts right up to residential areas. It used to protect the Lower 9th Ward and parts of East New Orleans from hurricanes and storm surge, and … in my life time it succumbed to manmade destruction.
The Bayou Bienvenue Wetlands Triangle is a remnant of a once great Mississippi River Delta swamp.

As recently as the 1960s, this freshwater swamp extended from New Orleans eastward to Lake Borgne. But more than a century of levee and canal construction converted a thriving ecosystem into an open-water brackish marsh, with only cypress "ghosts" and some older residents' memories remaining.
By the time Hurricane Katrina hit, Bayou Bienvenue was nothing but an expanse of shallow, open water; its former protective role erased, … with memories of its beauty in the minds of our older citizens.
What is now open water used to be an old–growth swamp that was filled with cypress trees, water lilies, and freshwater wildlife such as fish, alligators, otters, birds, and crawfish. The cypress trees were once so thick you could pull yourself along in a canoe or pirogue just by reaching out to grab cypress knees.
In addition to the ecosystem, Bayou Bienvenue was home to the Maroons, a community of escaped slaves. The Maroons took to the area, and used it in a communal way for protection and sustenance.
In later years, residents of the Lower 9th Ward used the bayou for fishing, timber, and recreation.
The Bayou Bienvenue Wetlands viewing area is located at the corner of Caffin Ave. and Florida Ave.
Learn more at Restore the Bayou. — Scott McCrossen
Visit Nola Places
We're curious about our city, and we seek the best New Orleans has to offer. Browse or sort by category: