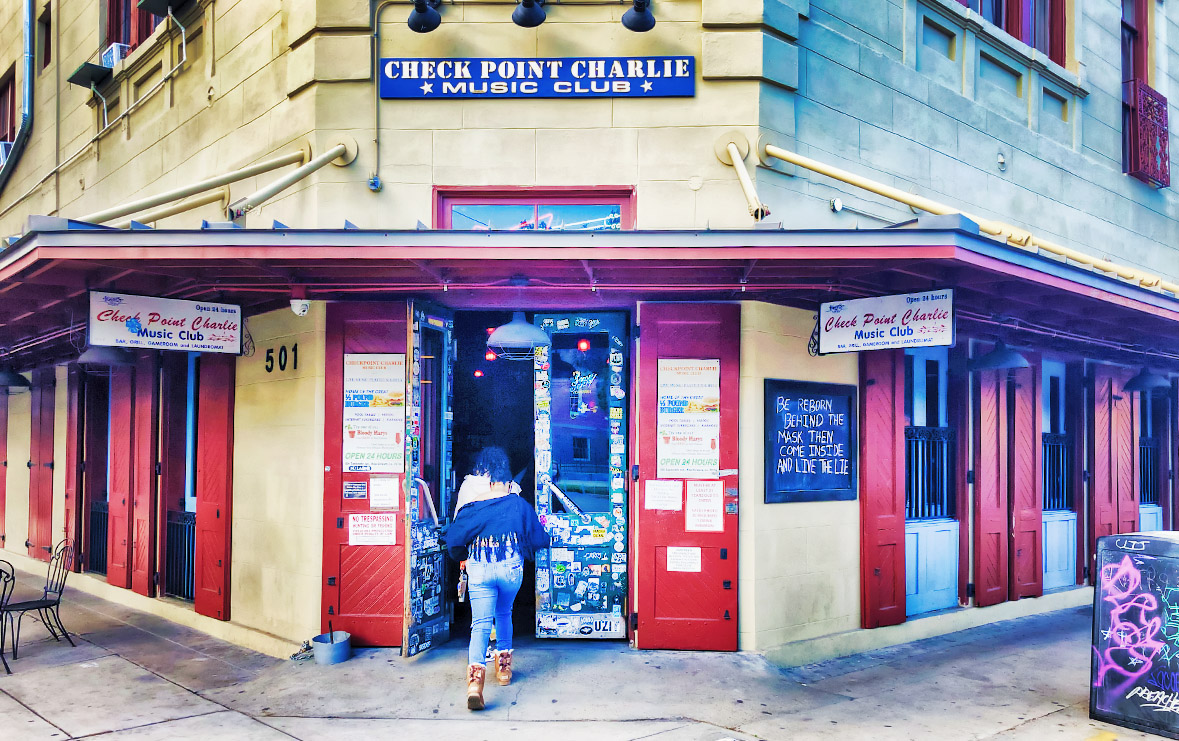 Go for: 24-hour bar, greasy spoon pub-grub, and all-night laundromat + live music
—
At Check Point Charlie, you can get your burger, your beer, your blues music, and your blue jeans cleaned, too.
It's a live music club where you can see everything from solo troubadours to Cajun rock, blues, punk, and country.
Check Point Charlie is a late-night place, and it's the perfect place for that hair-of-the-dog. This 24-hour joint has a vibe that is all its own.
Unique in a city known for wretched excess and over indulgence, Check Point Charlie sits apart from other late night haunts in that it doesn't cater to any one type of person. Some would say they're not even sure it caters only to humans, as word has it were their aliens among us … they'd most certainly be having a drink at Check Point's.
It's Classic New Orleans located on the corner of Esplanade Ave. and Decatur, just off Frenchmen Street.
Beer is cold, drinks are stiff, barkeeps are pros.
There's a pool table, café tables next to open air windows, a late night kitchen, and a laundromat, too.
If you walked in and saw Pee Wee Herman having a drink with Rob Zombie and a tweaked out bum it would not be surprising. Check Point Charlie welcomes all kinds, and it is several layers of interesting, odd, and good.
There's nothing fancy and Check Point Charlie, and that is the whole point.
Come in, order drinks, sit down, listen-up, and stay awhile. It's good for a session, and also great on a bar hop, too. — Scott McCrossen
Visit Nola Places
We're curious about our city, and we seek the best New Orleans has to offer. Browse or sort by category: