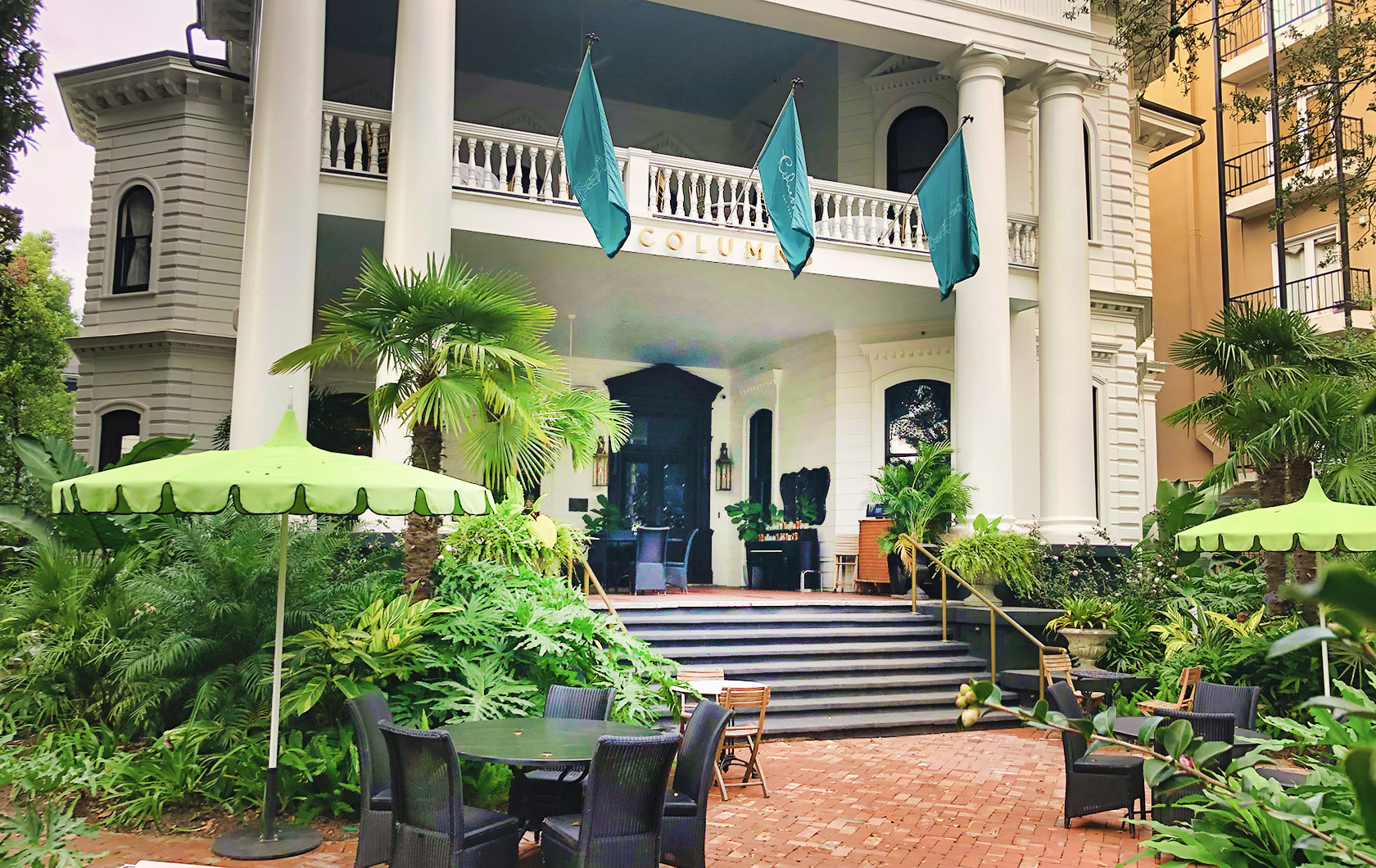 Go for: Jazz brunch, after-dinner-drinks, old-school charm & porch dining
—
The Columns Hotel is a beautiful architectural masterpiece of an Italianate house. I am not sure what that means but what I can tell you is that it is a place that you must try. I have not stayed at the hotel but what I do want to talk about is the authentic bar that is located inside the hotel.
As you walk up to the front steps of this mansion, you feel time slip away. There is a huge porch that has white painted iron tables and chairs. They beckon you to sit awhile and watch the streetcars rattle down St Charles Ave. As you open the front door, you walk into a foyer that reminds you what houses used to look like back in the 1800's. Turn to your right and you are in the Columns Bar.
Hardwood floors with throw rugs that have seen better days, a huge fireplace that has not been used in quite some time and situated behind a long mahogany bar, the friendly bartender greets you with a smile and asks what he can get for you. Sitting at the bar in well worn wooden seats, you swivel your attention to the bartender and ask for an old fashioned cocktail. As he creates your beverage, he asks you if you are with the wedding party that will be down later. No, you shake your head. I am just hear for the ambiance.
Turning to look at the rest of the room, you see ceilings that are 20' high. The room adjoining the bar has comfortable gatherings of tables and chairs that can accompany 2 people to 6 people. Hidden alcoves with wooden benches make me think of good friends gathering to talk about what they did all day. The next room that can be reached through an adjoining door is the Front Room – ok, that is what I call it. I am not sure of the correct name, but since the windows look out front of the house, I call it the Front Room. During Christmas time there is a HUGE Christmas tree that is decorated in festive colors and lights. It is a perfect escape from all of the hustle and bustle of the season.
They do have food items for purchase and sometimes you get lucky and there is acoustic music being created — but for me, I mainly come to pretend that I own a house on St Charles and all my friends are coming over for a few drinks. — Christine Sory
Visit Nola Places
We're curious about our city, and we seek the best New Orleans has to offer. Browse or sort by category: