Martine's Lounge
Martine's Lounge is a neighborhood bar in Old Metairie where everyone is a local, and no one has ever met a stranger. This small space is big on ambience and cheerful spirit. • 2347 Metairie Rd, Metairie, LA 70001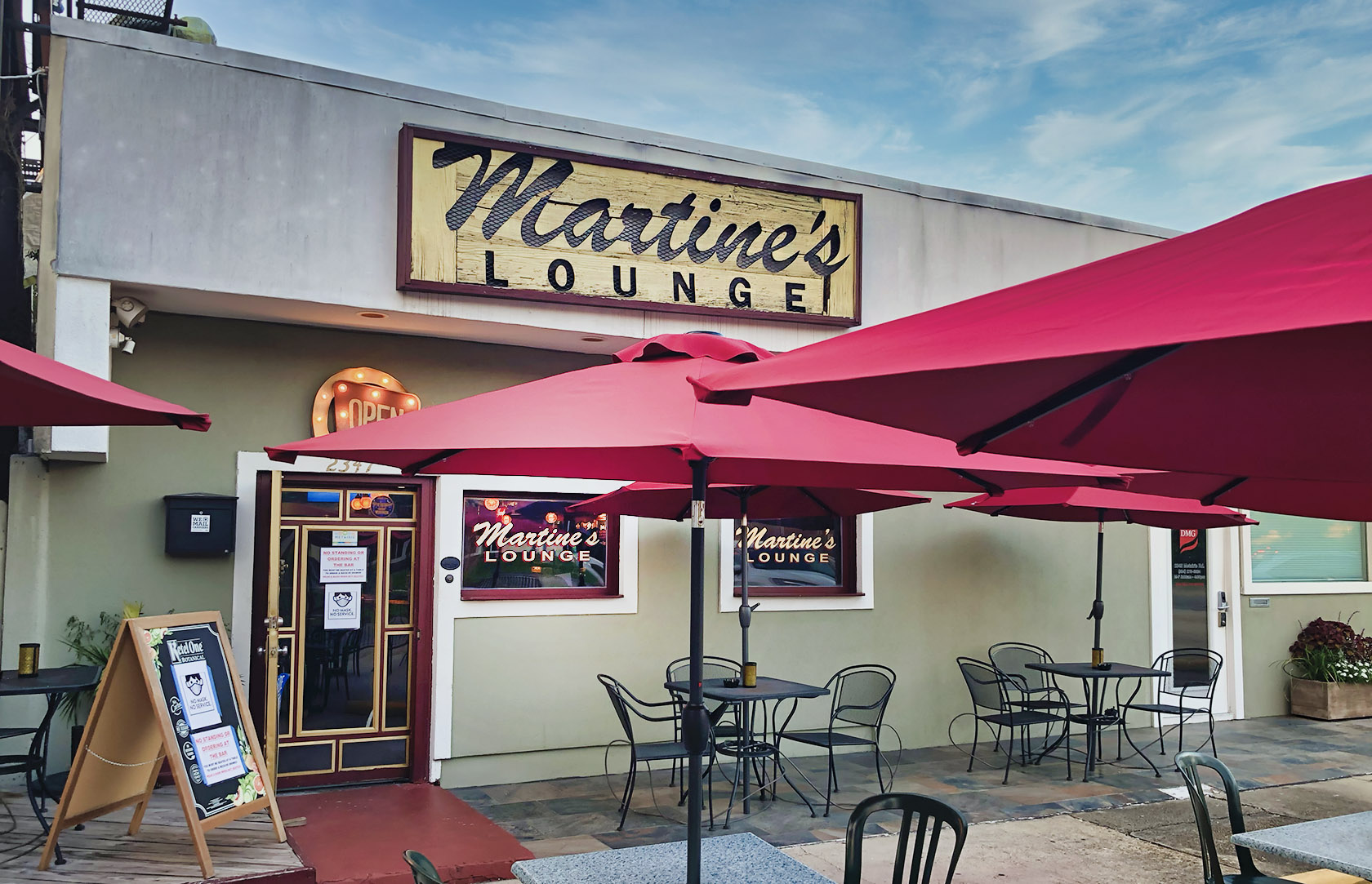 Go for: cold beer, good conversation, and cocktails
—
Opened in 1984, and once home to the Tulane University Booster Club! This bar has — at times — been a restaurant, a comedy club, and a neighborhood lounge. It's the kind of place you would expect to catch Larry in if ever you thought of having a drink at The Regal Beagle.
It's run by the folks who also own Pal's Lounge in Mid-City, and it is one of Old Metairie's go to bars for good cocktails in a friendly neighborhood setting.
To me Martine's Lounge is still the same place as it always was … inviting, easy-going, and comfortable.
The compact bar allows seating on three sides, there are about a dozen high-top mini-tables, and some scattered stools, and there's outdoor seating, too.
Outdoor tables at Martine's Lounge are always protected from the late afternoon sun, and the hub of activity on Metairie Road make this a good spot for people watching as the buzz of the neighborhood walks, bikes, and drives by.
It's a small place with a big heart, and the kind of place you will want to return to after a first visit. Note: they do still  allow smoking indoors, so that might sway some away, but … they have outdoor seating, too.
The barkeeps are super friendly, and so too are the regulars. Walking into Martine's is like walking into a mini-Cheers … everyone knows how to relax, tell happy stories, and chide a person or two for the slightest trivial infraction. At Martine's conversation is as much on order as the cocktails. It is a good place for after work drinks, day time drinks, or after dinner drinks — on a date, by yourself, or with a group of friends.
The vintage mirrors, antique cash register, and convivial bar setup make Martine's a gem of a little local saloon. — Scott McCrossen
Visit Nola Places
We're curious about our city, and we seek the best New Orleans has to offer. Browse or sort by category: