Mayfair Lounge
At the Mayfair Lounge, bring cash. No cards. This place is a throwback to a time when bars had quirks, and the people in them had and shared their quirks, too. • 1505 Amelia St.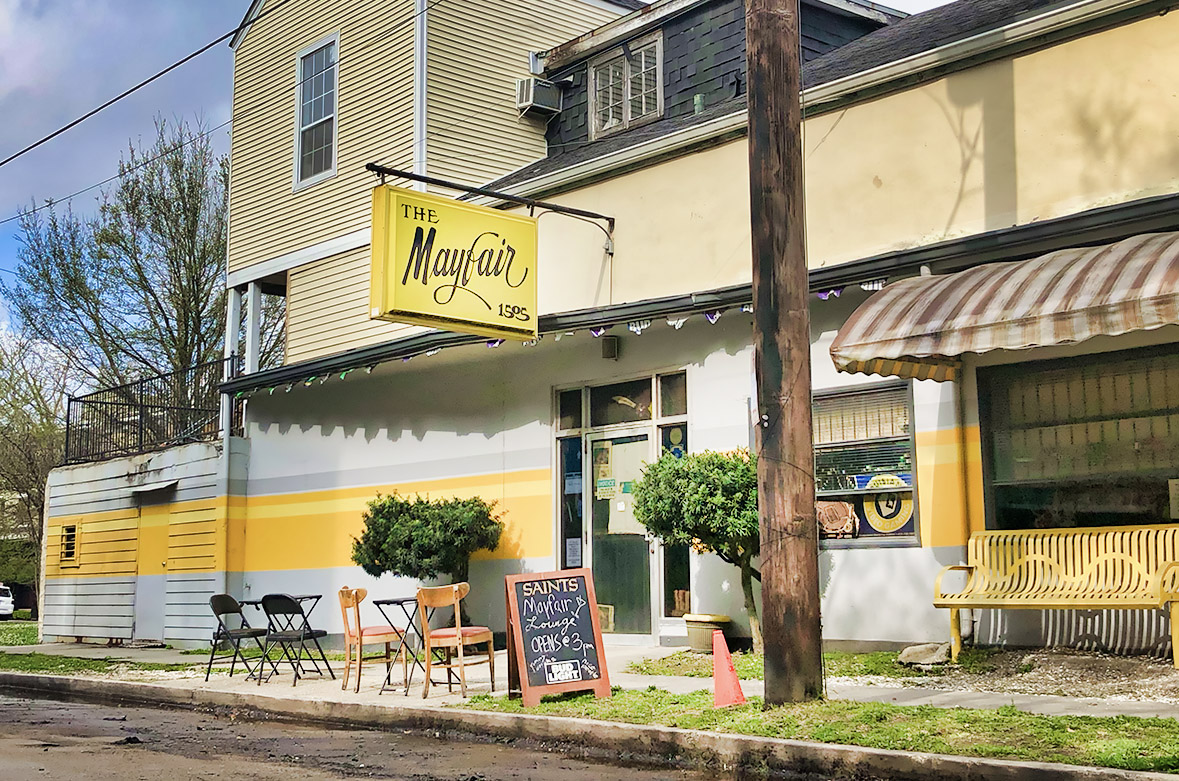 Go for:  A classic, no frills, neighborhood bar in Uptown New Orleans. Just steps off the street car.
—
Every day's a party when you're at the Mayfair Lounge. Just look up, and you'll understand.
The hodgepodge of decorations aside, this is the kind of place you gather with family and friends when you're starting to bar hop, when you're ending a bar hop, or when you planned to bar hop, and decided why leave a drinking paradise?
The Mayfair Lounge has character in spades, and its got characters, too.
Fancy a game of Jeopardy? It will be on the TV — play along. Fancy a game of pool? Table is in the back room. Wanna try your hand at cards? They've got video poker. Want to commemorate the occasion? There's an old-school photo booth, too.
It's a small place that's big on heart and warm attitudes.
The Mayfair Lounge is a fun, low-key place that for many regulars is the heart of New Orleans.
On any given day you'll see neighborhood folks, mixed with doctors and nurses from nearby Touro hospital, and it always seems like only a handful of tourists.
When college is in session, you'll sometimes get a small crowd of students from Tulane and Loyola. They never stay long, but for many of them the Mayfair Lounge becomes a regular stop when getting back together with the krewe post-graduation.
You still have to get buzzed in (bell on the door outside), and remember … it remains cash only – like any self respecting local bar should be. Glance up, look around, make new friends, and while you're standing at the bar, look down: There's a bar gutter drain entrenched in the terrazzo (Gawd, you gotta love that terrazzo).
In the spirit of Mrs. Gerti — Long live the Mayfair Lounge. — Scott McCrossen
Visit Nola Places
We're curious about our city, and we seek the best New Orleans has to offer. Browse or sort by category: