New Orleans Fair Grounds
The New Orleans Fair Grounds has been around for many years (since 1872). The Grand Stand was rebuilt after burning down in 1993. It is state of the art and includes air conditioning — a must in New Orleans.  There are two tracks – one is dirt and the other turf. And when it rains, it's a mudder for sure. • 1751 Gentilly Blvd, New Orleans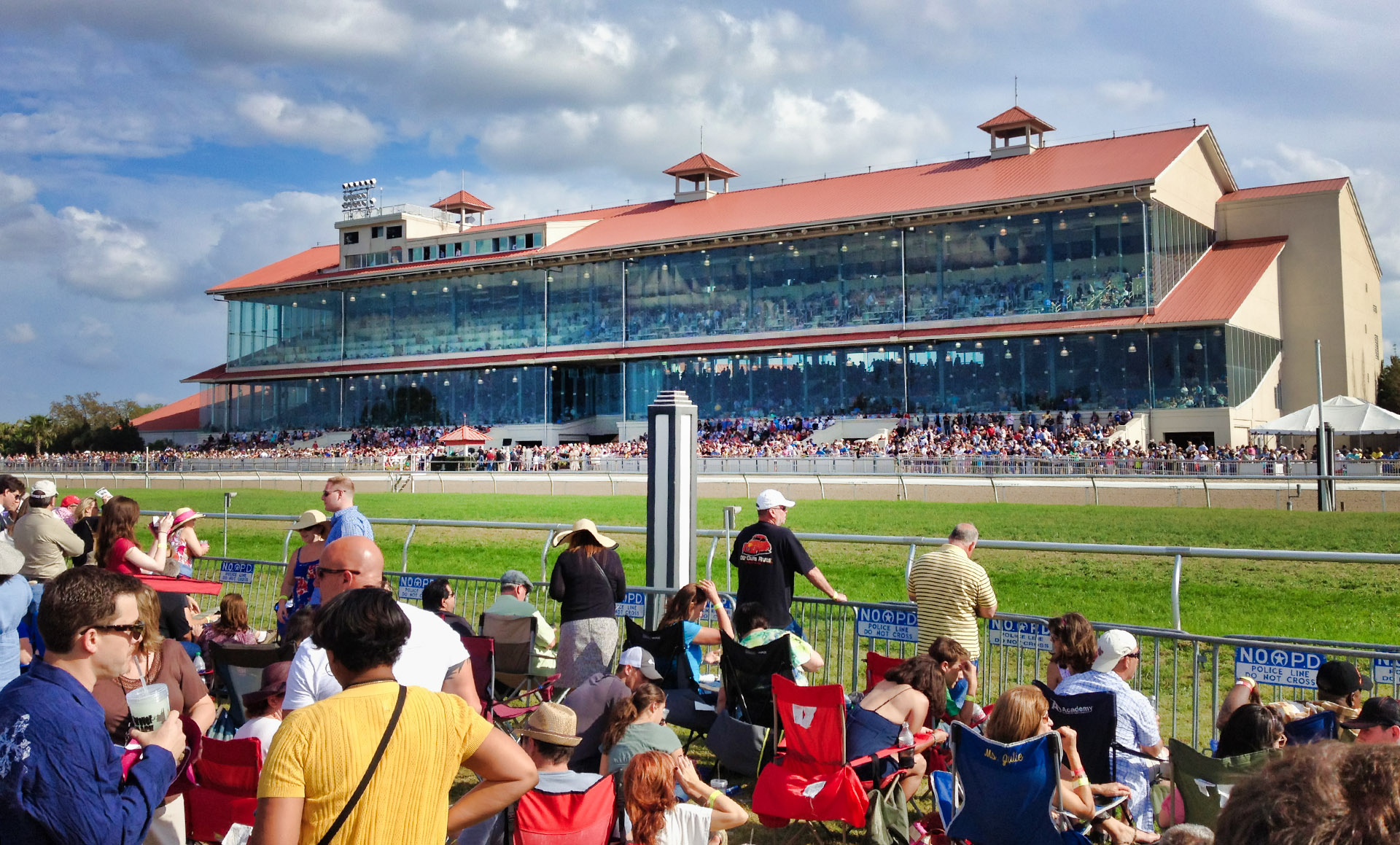 Go for: the racing, but stay for the people watching.
In the beginning, women were allowed only to enter at a certain entrance to watch the horse races. Not any more. All are welcome including the kiddos. One may ask, why bring children? It is not required, but if you are itching to get outdoors with friends and have no one to babysit, bring them along. Young people, old people or anywhere in between, there is something for everyone. There is plenty of on-site parking and valet service too.
Food selections are interesting. Try the freshly shucked oysters with an iced cold frosty beverage in the paddock while perusing your racing form and getting up close with the horses. They are famous for their corn beef and cabbage but they do serve hot dogs and hamburgers too. Or get a little fancy and buy a ticket to the Clubhouse. There is live music, table service with food and beverage and of course betting on the ponies.
Sometimes you can catch the ladies wearing their oversized hats and gentlemen in their dashing derbies. The Louisiana Derby is "THE" day to wear your finery. Thanksgiving Day and the day after are also prime dates to visit The Track. You never know who you are going to see here.
Slot machines are located in their casino which is on property. I have not participated in that activity but if your luck is not with the ponies, perhaps you can try your hand at the slots.
The Track as the locals call it, is open seasonally for horse racing. On special days you may see Exotic Animals racing or StarLight Racing where the horses run at night. In between races, local bands perform near the rail. Food trucks can also be utilized for various food offerings. If you don't want to bet, no worries. As Ronnie Virgets would say in his classic Yat voice, "Der's always somethin to do at da … Fair Grounds."
This is also the location of the New Orleans Jazz & Heritage Festival. – christine sory
Visit Nola Places
We're curious about our city, and we seek the best New Orleans has to offer. Browse or sort by category: