Picnic Provisions & Whiskey
Picnic Provisions & Whiskey is is a collaboration of Commanders Palace and Reginelli's, it's Naturally N'awlins and Naturally Southern at the same time • 741 State St, New Orleans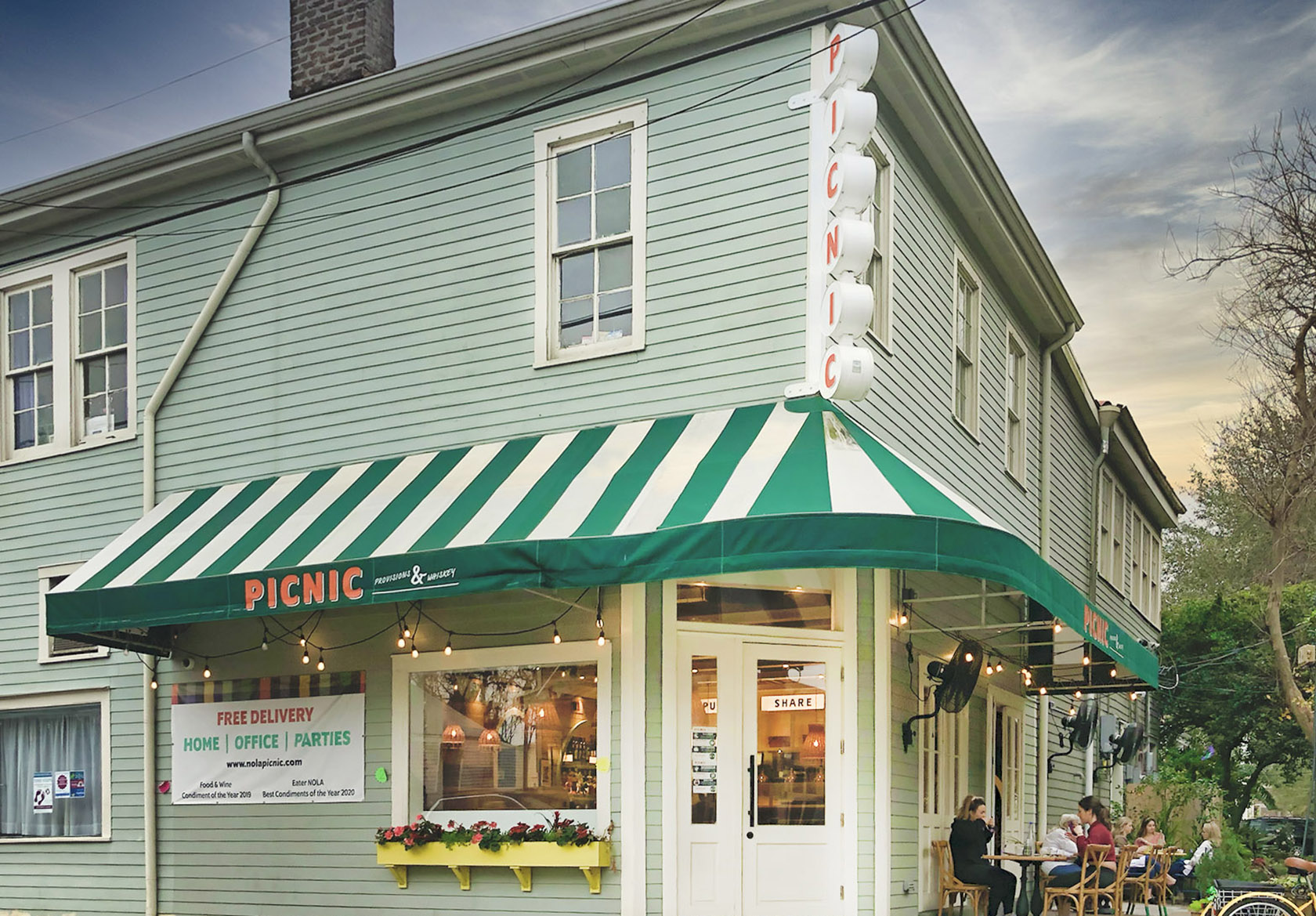 Go for: Crawfish boil fried chicken, daily happy hour, outdoor seating
—
So how's about a picnic? I decided to try this place out because I needed a lunch spot close to State St. and Magazine St. I wanted something local — quick but not fast — and this fit the bill.
The founding team members include: Tory McPhail, Ti Marin and Darryl Reginelli. I don't think you can get more New Orleans than that. Tory and Ti are from the Commander's Palace family of restaurants, and Darryl is from Reginelli's.
There is inside and outside seating (picnic tables) and you can get food to go (as in a picnic). I chose inside because it was chilly outside. Both seating areas are charming and comfortable.
Now for the food … the menu at Picnic Provisions & Whiskey is heavy on fried chicken with sides which is typical for a picnic, but they do have other options. I chose the Crawfish Boil Hot Fried Chicken Sandwich with house made pickles. It was all dark meat which made the chicken juicy and the lemony miso mayo was not smeared on too heavy. They use the same spices found in a crawfish boil. It was not too spicy, and on top of the bun they place a dollop of pepper mash. The combined flavors were amazing!
If you don't want the sandwich, they can make it into a plate dish with two sides. My one side was the Cajun potato salad with sweet corn, chopped egg, crushed jalapeños and a crunchy Zapps potato chip topping. It was yummy but super spicy.
Other items that pique my interest are: the Cajun Hotdog, the Epic Grilled Cheese sandwich, and the Shrimp and Tasso Meatballs. On good weather days, it's a treat to sit outside under the oak trees, where you get to people watch in this lively neighborhood, where Audubon meets West Riverside, Uptown.
Next time you're at Picnic Provisions & Whiskey try some of their whiskey drinks too, enjoy the afternoon, and play a game of corn hole while soaking up the warm weather with good friends.
It is a little pricey for a picnic place so maybe I will try them during happy hour next time. They are open Wednesdays through Sundays and have a Happy Hour from 3-7 pm daily. — Christine Sory
Visit Nola Places
We're curious about our city, and we seek the best New Orleans has to offer. Browse or sort by category: