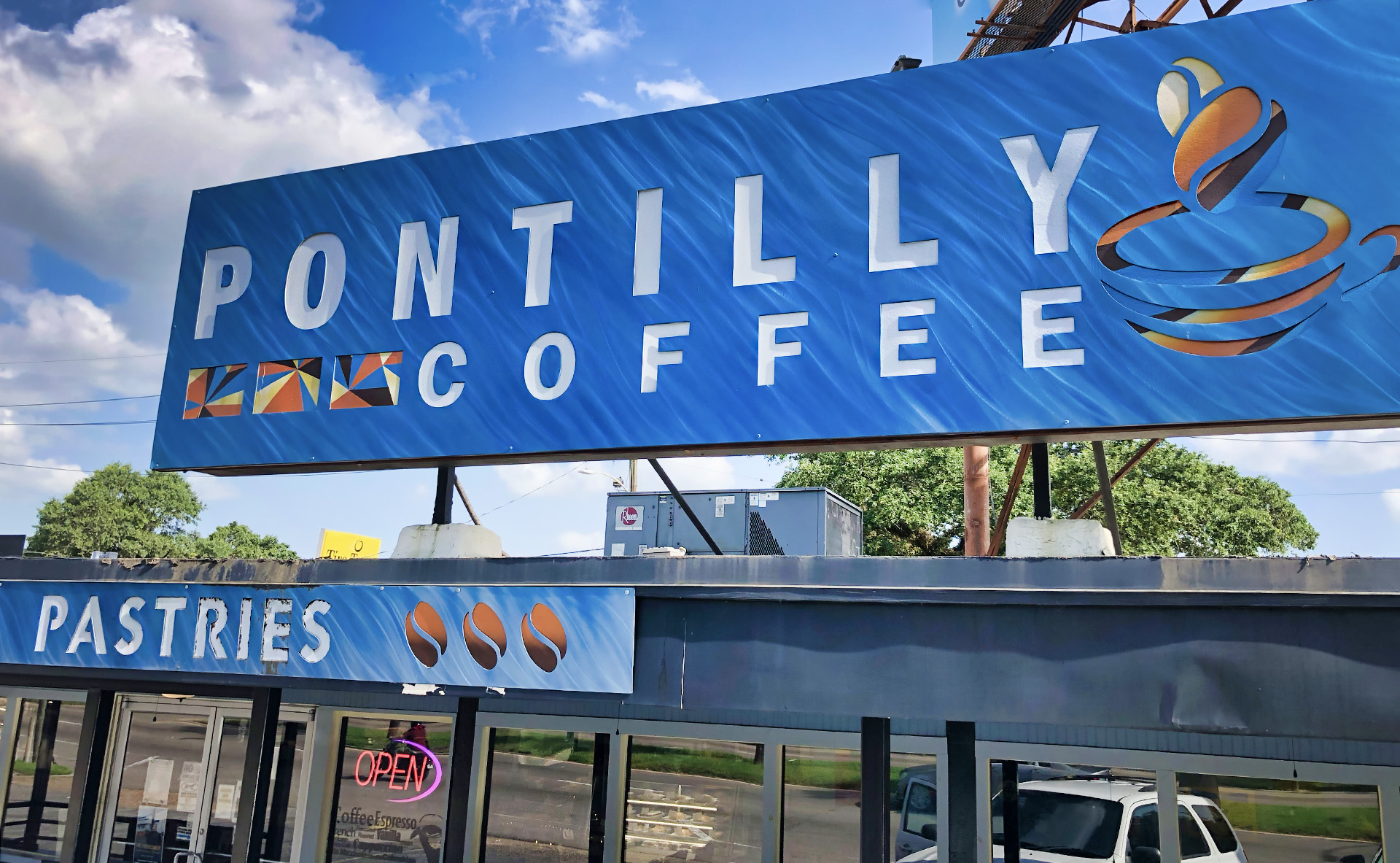 Go for: good coffee, comfort food, outdoor seating in the shade
—
Pontilly Coffee is a gem of a place.
I've listed it in the restaurants category because they do serve good food and drink, and I also am listing it in "spaces" because it is such a wonderful place to sit and relax for awhile.
Pontilly Coffee is located on Chef Menteur Highway, and it gets it's name from two adjacent New Orleans' neighborhoods — Pontchartrain Park and Gentilly Terrace.
Pontilly Coffee is directly across the street from the Baptist Theological Seminary, and adjacent to the God is Good Carwash — the fastest, friendliest vehicle cleaning operation in the city (but more on that in a future post).
This spot is convenient for people in the adjoining neighborhoods, as well as for residents who live near UNO, SUNO, and in the East. It's convenient for travelers with its proximity to I-10, and … I recommend it for a quick stop, anytime you're in the area.
But I must say, you will stay longer, and you will come back for more. Pontilly is known for it's fresh roasted coffee, breakfast dishes, delicious pastries, and healthy lunches … and that's not all.
The company was founded with a mission to be a presence in the local community, and all proceeds go to support faith-based residential substance abuse treatment programs for men and women struggling with alcoholism and drug addiction, which are located in the very same community: Bethel Colony South Men's Transformation Ministry, Bethel Women at the Well, and the Bethel Family House.
Walk into Pontilly Coffee, and you see a bunch going on. There's the artwork on the walls, the pastry cases stocked full with abundant goods, students studying, local business people having a meeting, and a friendly staff that greats you from the second you walk in the door. Service, cleanliness, friendliness, and attention to detail all come to the forefront here.
Ask them about their kolaches: here they're called Nola-che's, and they come in a variety of flavors – each stuffed with good eats. Other savory dishes include smoked turkey salad, and a delicious chicken salad sandwich on a buttery croissant.
In the pastry department — there are many options from which to choose: a variety of fresh baked muffins, strawberry shortcake Nola-che's, bread pudding, sweet potato pie, and house made cookies — and each one pairs well with one of the coffee drinks or their fresh brewed ice teas. – Scott McCrossen
Visit Nola Places
We're curious about our city, and we seek the best New Orleans has to offer. Browse or sort by category: