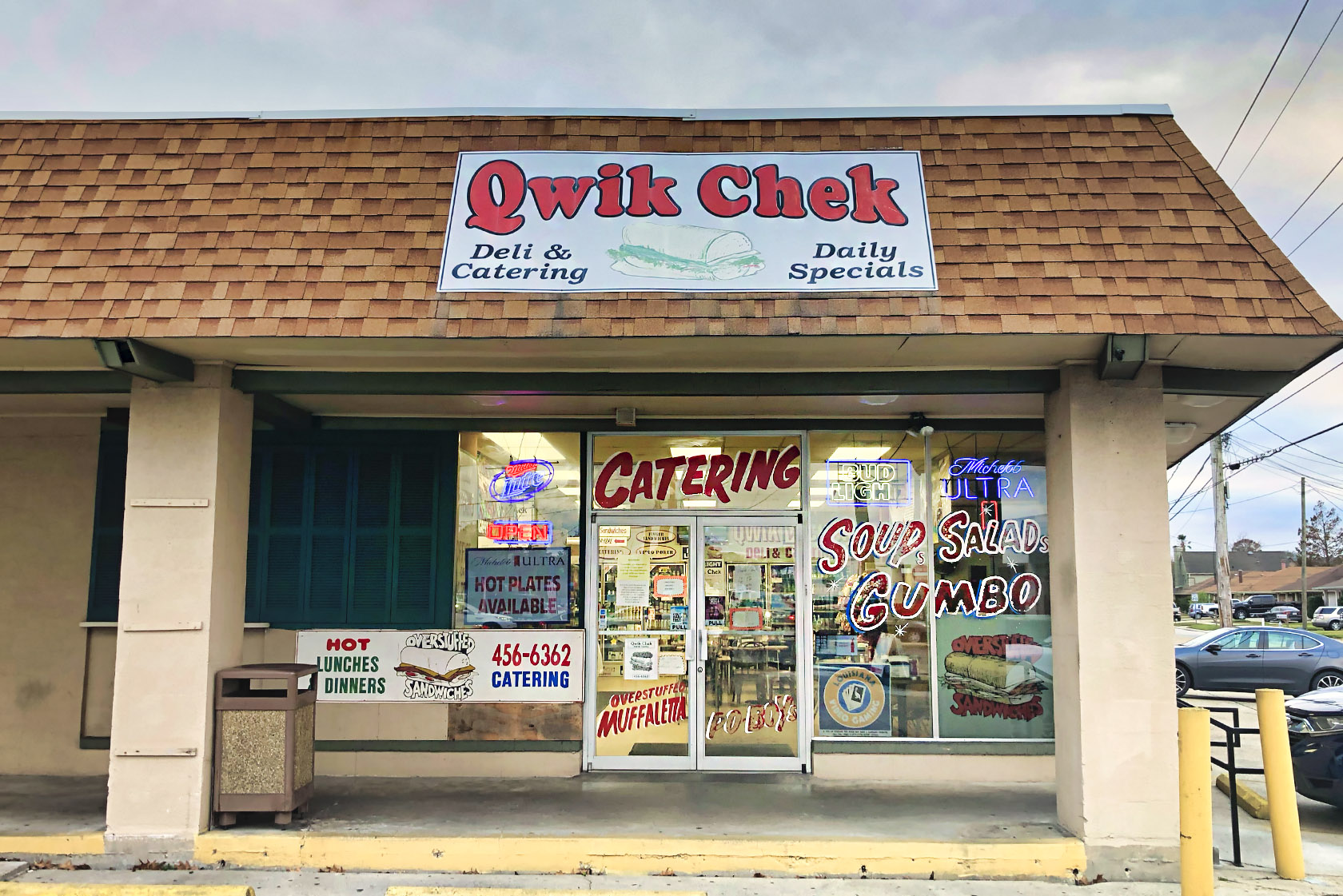 Go for: poboys, plate lunches, and that Naturally N'awlins atmosphere
—
Qwik Chek Deli & Catering is one of Metairie's essential poboy shops.
Qwik Chek — family owned, and operated, has been in business for more than 40 years. They use recipes handed down through generations. Come here for poboys, daily specials, and catering.
It's equal parts poboy shop, convenience store, and gathering space.
The latter because at any given time morning or afternoon, you can find a group of long-time friends sitting at tables just appreciating each others' company. Stories and jokes are told during meals at Qwik Chek, even though most of the punch lines have been heard by the regulars time-and-again.
Poboys come in small, medium and large (6-inches, 9-inches, and a generous 12-inch +), and you also can get any sandwich on a bun. Daily lunch specials include delicious stuffed bell peppers, and red beans and rice.
Toasted and seeded poboy bread make the sandwiches taste better, and in here everyone seems to agree.
Seeds or no seeds has long been a contentious question when it comes to New Orleans' poboys, and at Qwik Chek, it's seeds all-the-way, every day.
Next time you're in the area (Clearview Pkwy. near West Napoleon) stop in for lunch, or pickup for dinner, but note: it's worth the drive. In a town that used to have corner stores with poboy shops at every other corner — as those places have dwindled — Qwik Chek remains.
You can get chips, beer, bread, and candy, too, but for me the point here is to sit back, enjoy and take in the simple pleasure of a home cooked meal in a casual neighborhood diner.
Qwik Chek also is the place for catering. Order all of your Crescent City favorites, just ask for Sal or Mary. — Scott McCrossen
Visit Nola Places
We're curious about our city, and we seek the best New Orleans has to offer. Browse or sort by category: