Sal's Sno Balls
Sal's Sno Ball stand sits under the oaks in Old Metairie, and it welcomes families with its consistent goodness and efficient service in a beautiful and humble space. • 1823 Metairie Ave, Metairie, LA 70005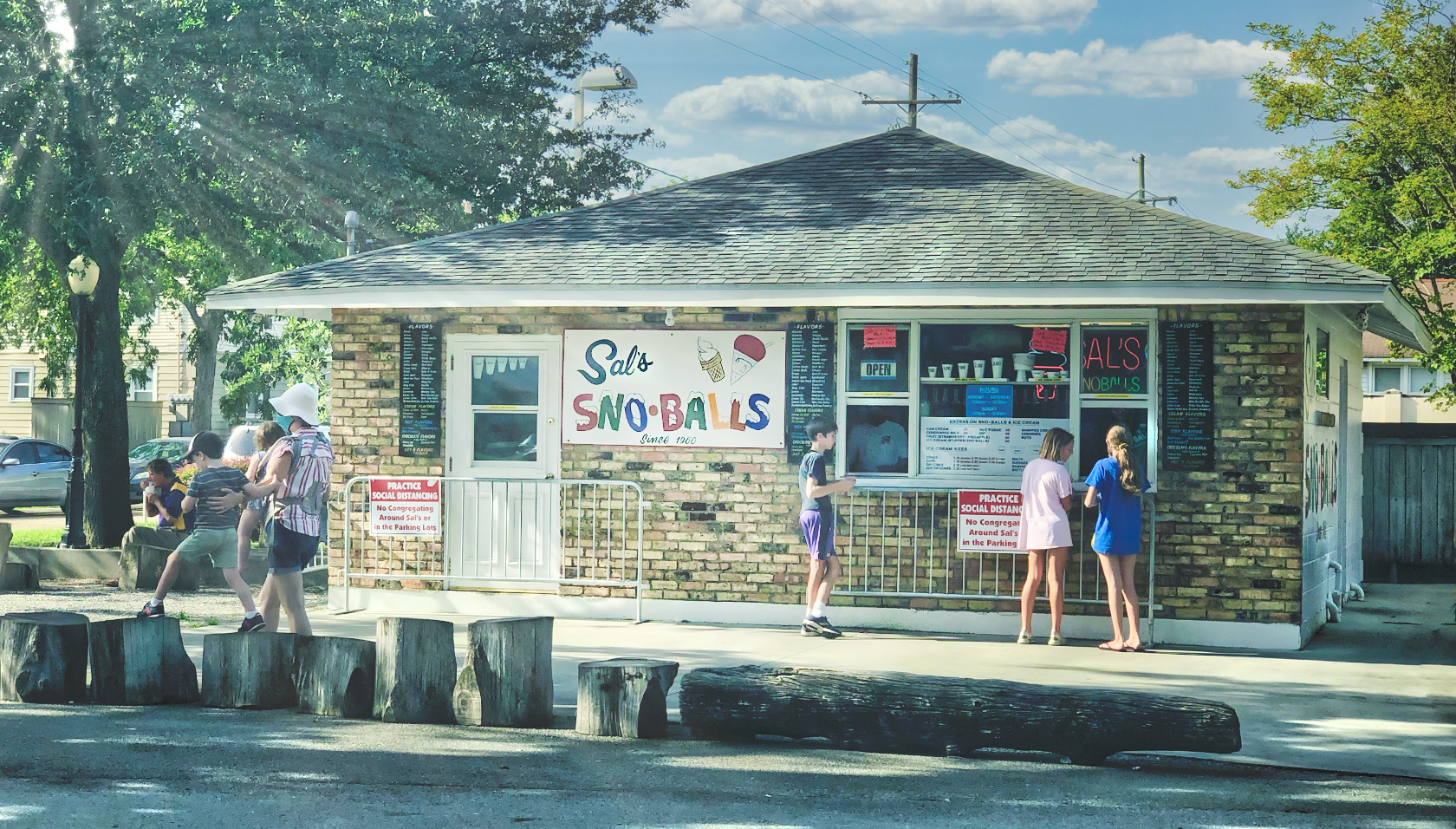 Go for: Sno-balls, soft serve ice cream, meeting with family and friends
—
In spite of the heat and humidity, New Orleans is an outdoor town.
We like festivals, we stand for hours on the streets to anticipate, and then participate in carnival parades, we tailgate for New Orleans Saints, Tulane University, and LSU football games in August and September, and we'll chance it during the monsoon months of April and early May — when any given afternoon can produce a gully-washer — all for the sake of spending time with people we like, and to enjoy the quirks of life in these little spots of nature within the built environment.
At places like Sal's Sno Balls — fun can be had for a song (OK, maybe a dollar or so), and it's the same place today as it was on the day it opened — except for the metal pole at the right of the building, which kids used to climb, while parents waited in line to order.
Sal's Sno Balls is one of New Orleans most beloved stands. There are hundreds across the city, and each neighborhood has at least one. If you're in the mood for New Orleans style shaved ice, done right — you can't go wrong here.
My wife will tell you Hansen's has the best ice, and my childhood friends will say "Why go anywhere but Casey's, man?" But Sal's has some of the best syrups, I love sitting under the oak trees, and it's been a mainstay my entire life.
I remember coming here as a kid after some great meals at nearby (though, Ain't der no More — Great Wall of China restaurant), I remember coming here with friends after hot summer days at Camp Big Foot at St. Catherine of Siena Church on Bonnabel, and I remember the absolute joy of riding bikes here from a bit farther a field across Metairie on post-exam half days during grammar school — where a quarter would get you some ice cold, juicy sweetness, and then we had two wheels and knobby tires to burn off that sugar rush by riding over to Metairie or Cleary Playgrounds.
Sal's no-balls stands in the grand tradition of simple living — New Orleans style. In a city that likes a front stoop, Sal's gives us its front stoop, and it offers refreshing concoctions with service and a smile. — Scott McCrossen
Visit Nola Places
We're curious about our city, and we seek the best New Orleans has to offer. Browse or sort by category: