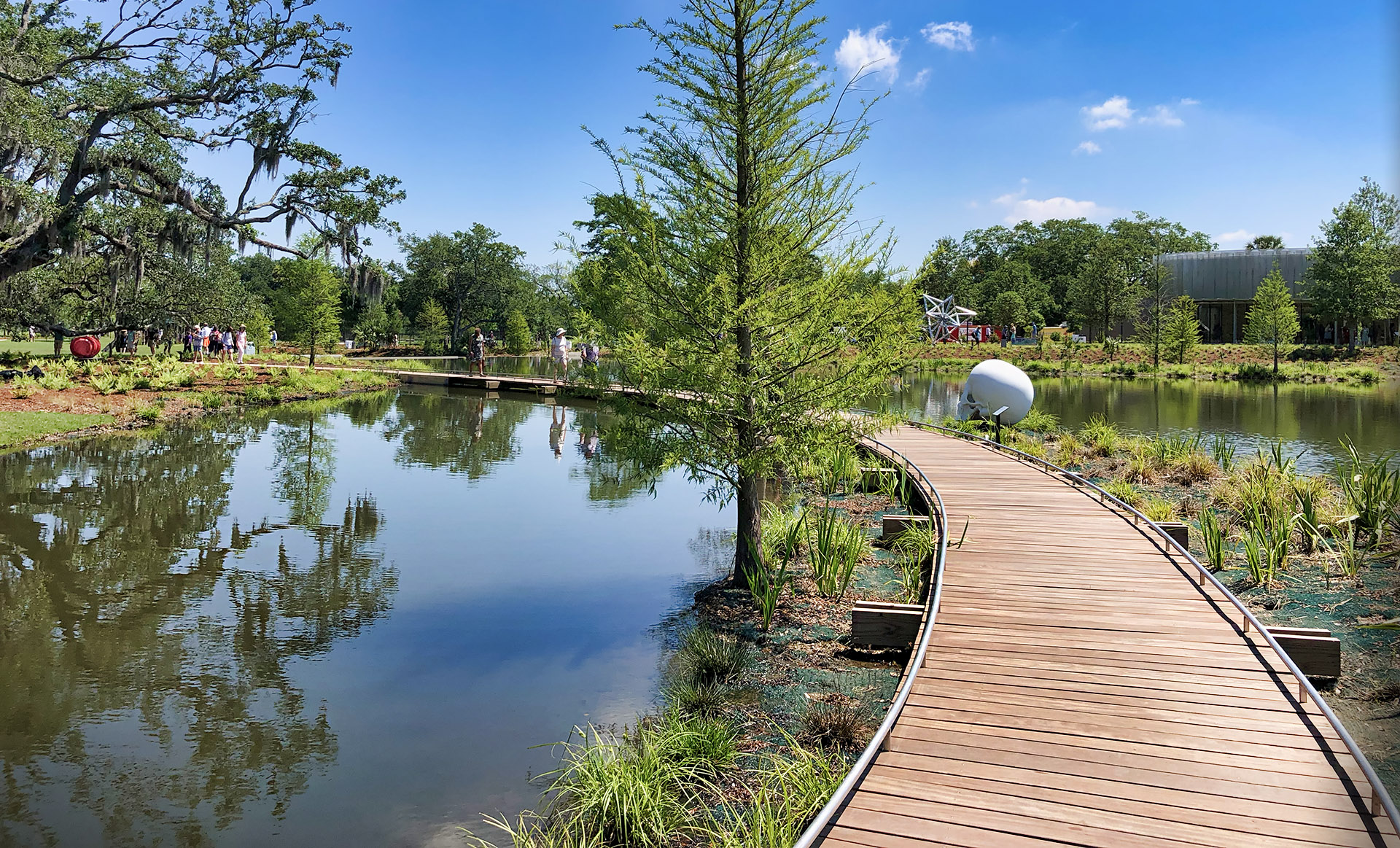 GO FOR: Fresh air, sculpture, winding paths, and architectural gems.
—
Art aficionados, fans of sculpture, and curious minds alike will enjoy the works in City Park's Sculpture Garden.
It's best to meander without too much of a plan; in fact, going in knowing very little about what's in store leaves more room to let your mind and eye do the walking. This park within a park was built in two phases, the most recent one was completed in 2019, and it more than doubled the size of the garden to 12 acres.
Bridges are a prominent feature throughout the space — each unique. Though one is unique across all of the United States. It's called a Moses Bridge, and it was designed to part water. The bridge takes you down, under a train trestle, and through the waterline of a lagoon. It connects the two halves of the garden.
The garden design creates outdoor viewing spaces within this picturesque landscape. Conceived in 2003, and doubling in size with the construction of 2019, it now features more than 90 sculptures.
Artists featured in include Larry Bell, Tony Cragg, Johan Creten, Rodin, Robert Indiana, Katharina Fritsch, Frank Gehry, Jeppe Hein, Georg Herold, Thomas Houseago, Shirazeh Houshiary, Baltasar Lobo, Robert Longo, Gerold Miller, Beverly Pepper, Pedro Reyes, George Rickey, Ursula von Rydingsvard, Sean Scully, Yinka Shonibare, Frank Stella, Hank Willis Thomas, Bernar Venet, and Fred Wilson.
Three works were commissioned for the site: a 60-foot-long mosaic wall by artist Teresita Fernández, a glass bridge by Elyn Zimmerman, and an installation by Maya Lin inside the Sculpture Pavilion.
Admission is free for NOMA members, $5 for adults, $3 for seniors, military, and college students, free under 19.
Open: Wednesdays – Sundays » 11am – 4pm
Visit Nola Places
We're curious about our city, and we seek the best New Orleans has to offer. Browse or sort by category: