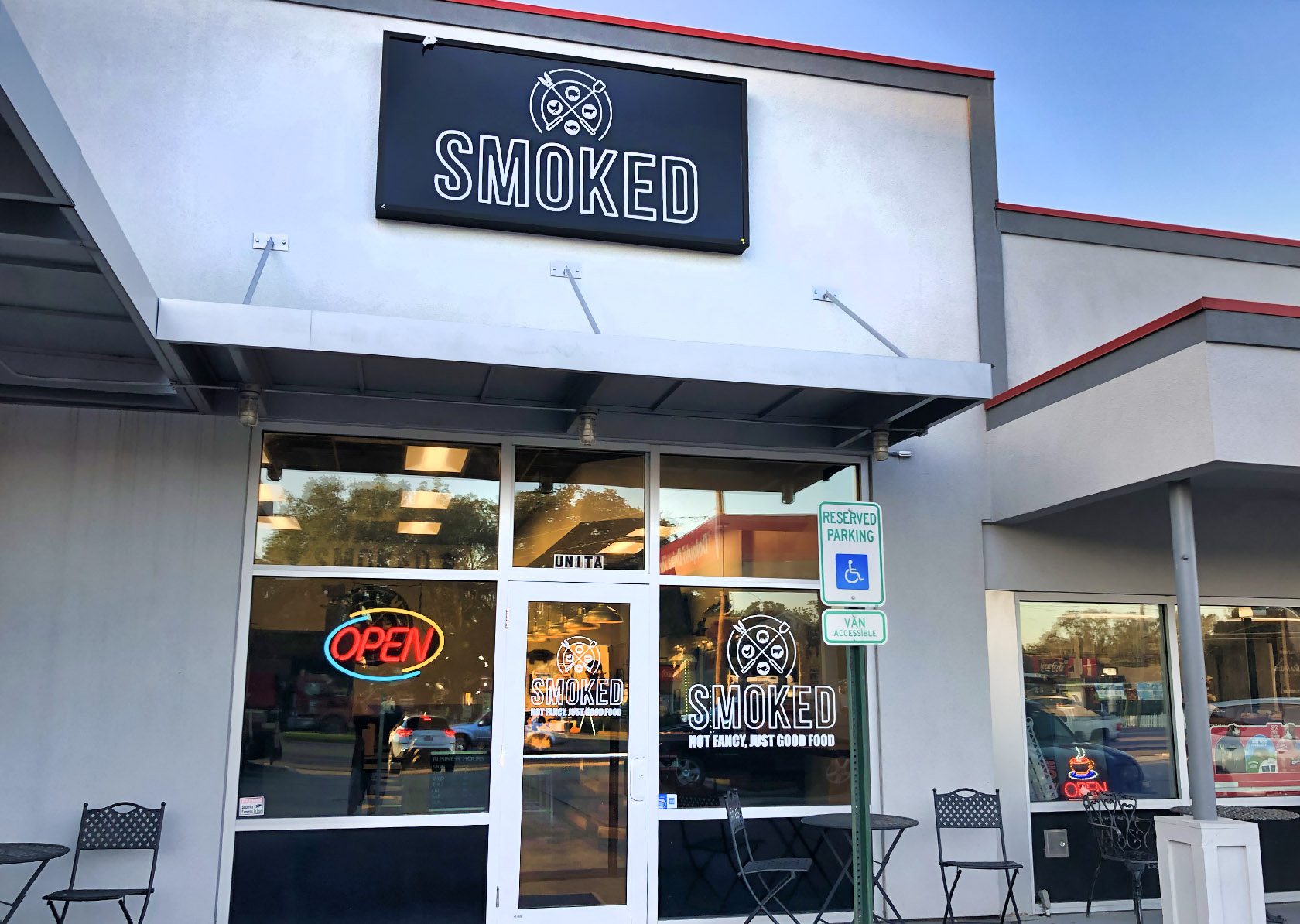 Go for: Smoked meats, brisket, pork, burnt ends, and tasty sides
—
Smoked BBQ is located in a small strip mall on Jefferson Highway in Harahan, they're family run, easy to get to, and worth the drive for anyone living throughout the metro area.
The team hails from Lawrence, Kansas, but note: "this is not Kansas City style Bar-B-Que," says Steve, the owner.
"We want you to taste the natural flavors and the smoked scents in the meats," says Steve. "everything is lightly sauced during smoking, but nothing is doused in sauce."
The result is perfectly moist meat that can be described (for lack of a better word) as dry — in the very best sense. Dry, as in: not dripping with sweet sauce. Dry as in unadorned, and naturally flavorful. Or, … let's call it mouthwateringly good.
Come to Smoked if you want to taste excellent brisket, pork, pulled chicken, burnt ends, ribs, burgers, even salmon. They do a brisk business that is mostly take away, from a small space in a strip mall that also is home to longtime area favorite Kim Anh Noodle House.
Some people say this spot is the definition of a hole in the wall, but I wouldn't call it that. It's too well run, too clean, and too buttoned down for the moniker. Diminutive? Yes, but it's big on taste.
Smoked BBQ puts out some of the best smoky brisket, and flavorful piquant smoked sausage I've had outside of Texas. There's always a choice of sides, and I think the mac & cheese, the green beans, and the brussels are outstanding.
Love, love, love the fact that everything here comes without sauce. They make five sauces in house, but I think the meats are so good you don't need any. For those so inclined, choose from: hickory smoked, vinegar, sweet, pineapple bourbon, and smoked sweet heat, which is the spiciest on offer.
The only thing that throws me here is the pickle slices are sweet, not dill.
We like to go to Smoked to make a quick and simple impromptu picnic, and often times we take food to the nearby river levee in Harahan, River Ridge, or to the small park overlooking the bend in Kenner.
Want to order for the whole family? No problem. Call ahead, and sample your way through the menu.
Occasionally they feature a meatloaf, and frequently do smoked burgers with some of that pineapple bourbon sauce turned into a jam, and dolloped on top.
Smoked makes some of the most consistently good bar-b-que in the New Orleans area. It's Lawrence, Kansas at home on the highway in Harahan. – Scott McCrossen
Visit Nola Places
We're curious about our city, and we seek the best New Orleans has to offer. Browse or sort by category: