Spirit House Sculpture
Artist John T. Scott captured the spirit and complexities of New Orleans in ways that speak to our soul, and to his imagination. See Spirit House at the Desaix Circle, in Gentilly.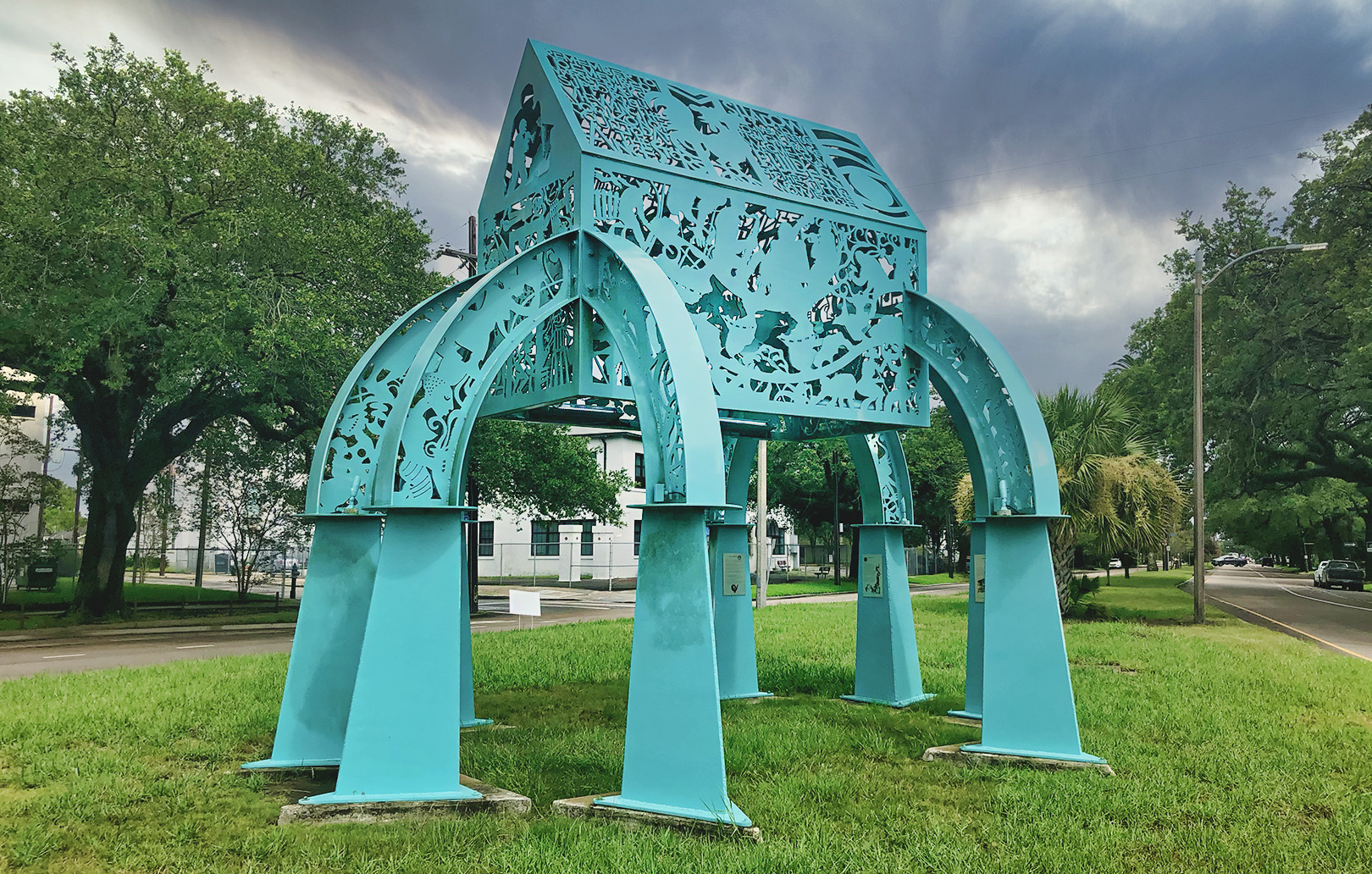 Go for: a grand view of public art by one of the city's most creative sons.
—
Spirit House is a sculpture created by artists John T. Scott and Martin Payton as a site-specific public art sculpture for the St. Bernard Avenue neutral ground in Gentilly.
The artwork is located at the intersection of St. Bernard Ave., Gentilly Blvd., and DeSaix Blvd. — historically known as the DeSaix Circle — (or, as we like to call it … the nexus of the universe). John T. Scott, a nationally known artist, and Payton, a former student of Scott's collaborated on the project.
Scott was a professor at Xavier University. He received a BA from Xavier University, a Masters at Michigan State, and returned home to teach for more than 40 years.
For Spirit House, their goal was to create a work that celebrates the contributions of African Americans who were instrumental in the cultural and physical development of New Orleans.
By incorporating various symbols and drawings of the artists, as well as the schoolchildren in the neighboring schools, the artists aimed to build a work that created a "non-literal narrative" and provided the community a sense of pride and "ownership," and … they hit their mark. The piece is captivating, and I can't imagine a better location for it.
There's no way you could miss it when driving by. On close inspection it is even better, and the heartfelt emotion of the piece tells a story from many angles.
The overall structure is a shotgun house supported by flying buttresses and raised on pylons to create what the artists describe as an "urban tabernacle," and it was a collaboration based on the neighborhood where it sits.
This area once was a neighborhood where craftsmen lived, and Scott decided to do a monument to those un-remembered people who played a major role in building homes across the city. The artists asked themselves, what is an African American? And they decided that an African American is an African who was brought to America under duress. The symbol of a shotgun house was chosen, because it came to New Orleans by way of the Caribbean from the Old Country.
Then Scott asked: What makes an African American? And answered: there's this African-European fusion. So he needed a European counterpart. When Africans were brought to New Orleans it was controlled by the Spanish and French, which meant Catholicism. So they decided to put a shotgun house on top of flying buttresses. Said Scott, "the thing that most people miss or ignore is that a great deal of what is called European culture — that is — Greek or Roman, is based on Egypt. So we put the whole thing on Egyptian columns."
Spirit House was commissioned in 2002 for the Arts Council of New Orleans.
Throughout his career, Scott drew upon New Orleans' rich African-Caribbean culture and musical heritage. He created vibrant kinetic sculptures that often explored themes from West African mythology or rhythms and movements inspired by early 19th century African slave dances in the city's famed Congo Square.
He was an ever present, commanding, yet gentle spirit, and if ever you ran into him he was gracious with his time. Scott often said, "New Orleans is the only city that I've been in that if you listen to the sidewalks they will speak to you."
Treat yourself to Spirit House, and ponder. Park on St. Bernard Ave., cross to the neutral ground, explore the details, and then take his advice — walk these city streets, wander these neighborhoods; listen to these sidewalks.
Tell us what you hear. – Scott McCrossen
Visit Nola Places
We're curious about our city, and we seek the best New Orleans has to offer. Browse or sort by category: