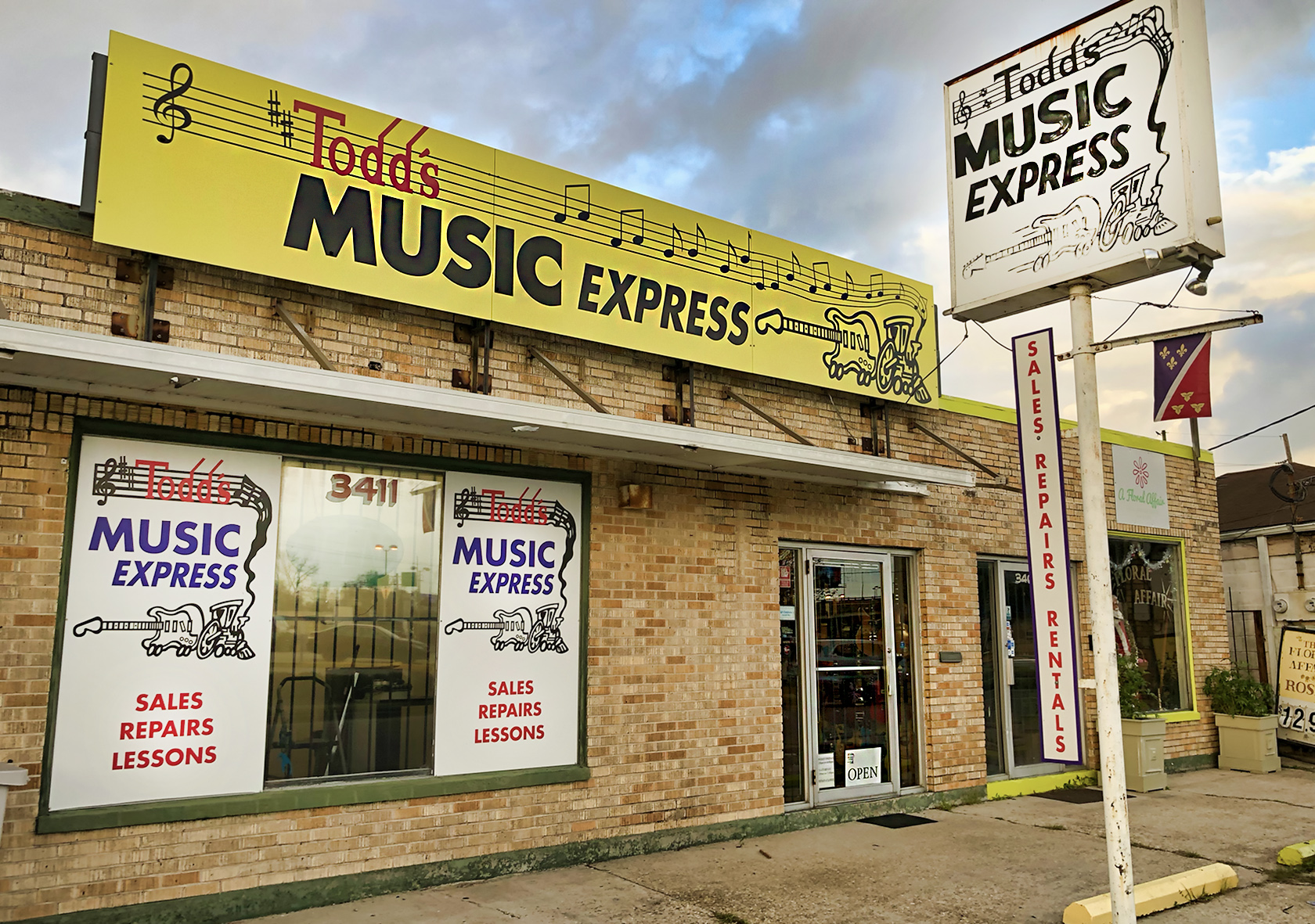 Go for: Guitars, guitars, guitars
—
Todd's Music Express is a tiny place that's home to power chords.
This music shop sells and services vintage guitars, new models, and other stringed instruments from a space on Metairie Road. Todd's Music Express is one of several small, locally owned shops on a triangular spit of land that's been home to the Zummo's Market Mall since the 1940s.
This is as Old Metry, as Old Metairie gets.
Todd's sits at the intersection of Severn Ave. and Metairie Road, and lives somewhere between the 1940's and modern music. It's the sort of place we once saw in neighborhoods all across New Orleans … small and locally owned — by a shop-owner who is there daily, and who has deep knowledge of his craft and his customers.
There aren't too many places like this left 'round town, and we're glad Todd's Music Express still rolls.
Step inside and you'll find vintage guitars hanging on the wall right alongside some recent American made models. The whole place can't be much more than 1,600 square feet, but it packs in the good stuff.
Come here to see and play guitars from yesteryear. The history of American music is on display at Todd's.
But, vintage isn't the only thing. Todd's Music Express sells the latest models of well-crafted instruments, banjos, ukuleles, and mandolins included. It also is a fair place to shop for guitar accessories and electronics.
And this makes Todd's a great place to shop whenever you're in the mood for a new instrument.
Staff are professional, knowledgable, and play instruments themselves. In fact, not only is Todd's Music Express a trusted guitar shop, it's one of the best places in town to get those guitars serviced, and they do a steady business in lessons for all ages.
If big-box and anti-chain stores are your gig / genre … then Todd's is the place you want to get in tune.
It's worlds away from that "center" which shall remain nameless, and I like to think of it as a sort of shoe box ideal … there's magic on those walls, along with grit and inspiration in the hearts and minds of the people who work there.
Smaller than C&M Music, in Kenner, and nearly every bit as good. Where C&M has a wider range of product and space, Todd's has a chill, humble charm. We recommend both spots when it comes to shopping for guitars in New Orleans, and note: even for those living in Orleans, as well as visitors to town … Todd's + C&M are worth a stop / shop the next time you're in the market for a well made instrument. — Scott McCrossen
Visit Nola Places
We're curious about our city, and we seek the best New Orleans has to offer. Browse or sort by category: