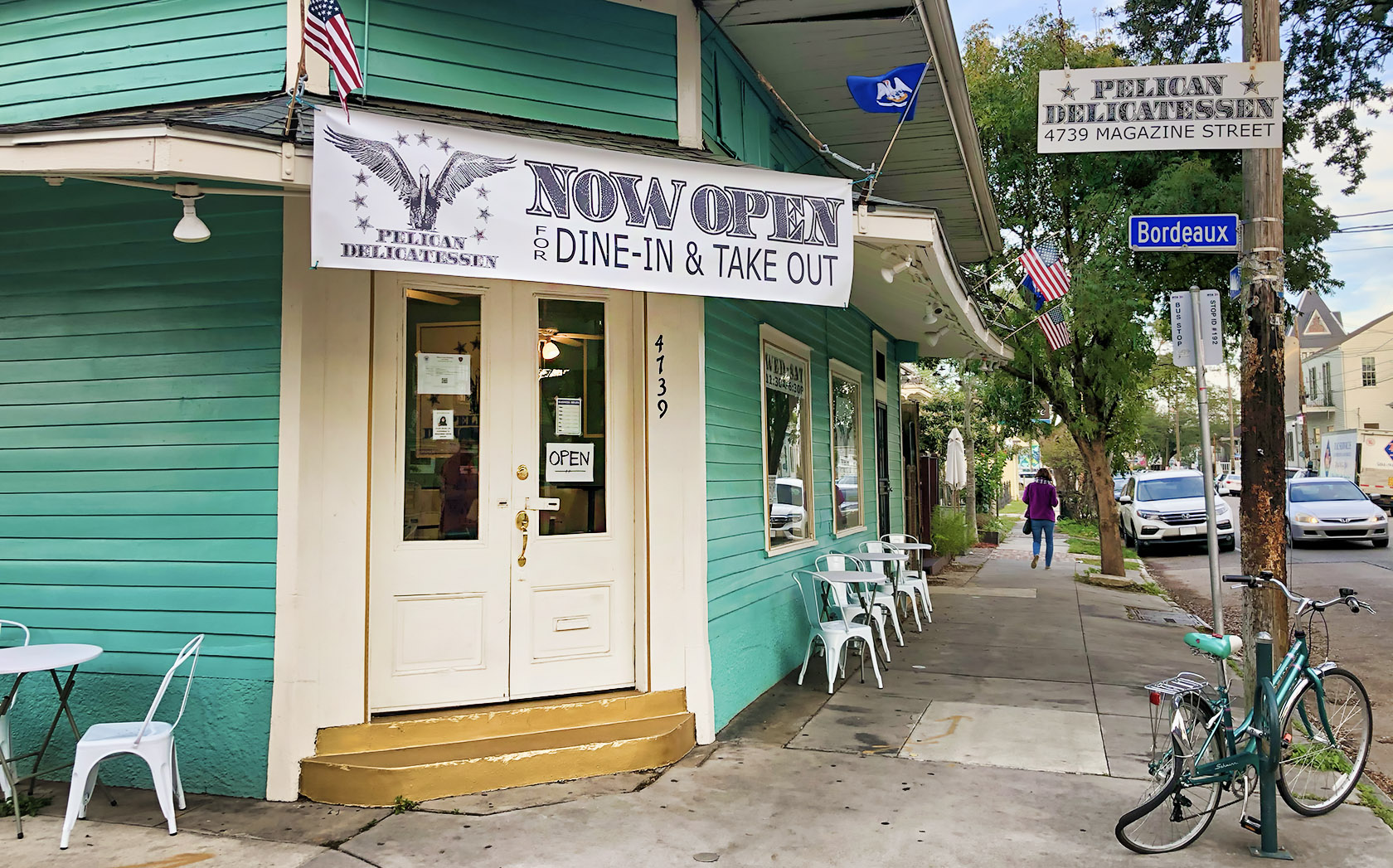 Go for: Corned beef, house cured bacon, and great sandwiches
—
Pelican Delicatessen is owned and operated by Joshua Kahn. It's his baby, his reason for being back in the Crescent City, and his offer to us citizens is this: Good food, at fair prices, in a comfortable setting.
It's a simple delicatessen that doesn't dabble in po-boys. The dining room is spacious, windows front Magazine Street, and you order at the counter from a short menu that has just the right tone and options — which makes  this a reliable, go-to lunch spot.
Joshua used to own a bar & grill in Atlanta called Kirkwood Aces. The menu featured about a dozen NY-deli style sandwiches that were a huge hit with regulars, and he had always dreamed of bringing it to New Orleans.
He first arrived on the Uptown bar scene in the early 1990s, where he worked in local haunts such as Tipitina's, and Cooter Browns. He departed for Atlanta, and vowed to one day return.
As for his NOLA meets NY concept, Josh says, "I was at the Oak Street Poboy fest about 7-8 years ago and felt that it was a great idea but to me (a Yankee from Rhode Island) it was being done backwards.
"Instead of making a New Orleans Reuben by putting it between french bread, I felt that I should be making a Reuben by putting New Orleans in between the slices of rye. And there you have it… The Pelican Delicatessen name came about because I wanted something that had to do with Louisiana, and I just really wanted to meld the best of Deli-style with New Orleans style."
By that, he means he wanted to open a trusty, reliable, home feel, New Orleans neighborhood restaurant, more specifically, a neighborhood sandwich shop.
Mission accomplished, though not without travails.
He worked feverishly to open between Mardi Gras 2020, and St. Patricks Day, and then … we all know what happened. Unsure of the future, and shut down due to a pandemic just as things were about to get off the ground, Kahn stuck with it. He finished the restaurant renovation himself, then waited patiently to reopen, first for take-away, and then for dine in, too.
The result? New Orleans now has another good restaurant on one of its most cherished main streets, in an area that is frequented by locals, local residents, and tourists, too. It's the kind of place you want to go to when you just want a good sandwich, without any hassle, and without any fuss.
Service is prompt, meats are smoked in-house, bread is baked locally at La Louisiane Bakery in Elmwood, and quality is consistently high. Sure, I think everyone should stop in at Pelican Delicatessen the next time they're shopping on Magazine Street, and I also think if you live anywhere nearby this place should become one of your go-to lunch spots.
I love poboys as much as any lifelong New Orleanian, but sometimes you just want a good BLT on sourdough. Check out the reuben, the grilled cheese, and the chicken salad, too. There's Zapp's chips on the side, and Pelican Delicatessen has our sweet tooth covered, … with a pecan pie, bananas foster cheesecake, and cookies. Open for lunch Wednesday – Saturday 11:30am – 6:30pm — Scott McCrossen
Visit Nola Places
We're curious about our city, and we seek the best New Orleans has to offer. Browse or sort by category: