Porch & Patio Kenner
When Porch and Patio opened up in Rivertown in July of 2018, I was not sure what to expect. Kenna Brah is better known for mom-n-pop seafood and mexican restaurants, daiquiri shops, strip malls and the Airport. I was pleasantly surprised to find this Wine and Beer Garden in suburbia. • 512 Williams Blvd, Kenner, LA 70062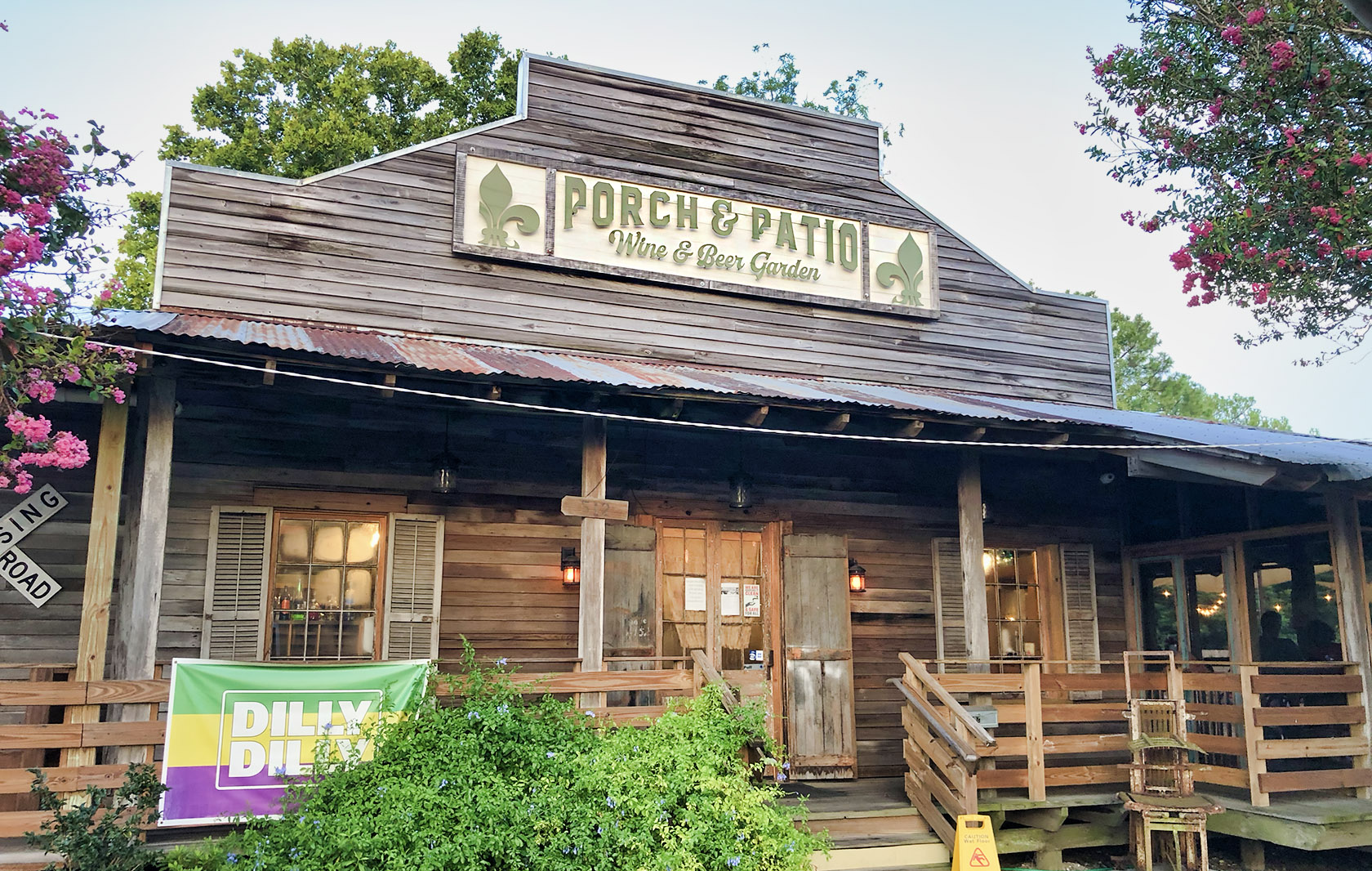 Go for:  Live music, draft beer, quaint atmosphere
—
My favorite part of Porch and Patio is their support of live music. On most weekends (and some weekdays), you can head over to their outdoor stage and listen to some great local musicians. Between the sails that block the sun in the late afternoons and the huge fans scattered around, you can actually sit outside in the summer here. This place can get crowded so if all the picnic tables are taken up, make sure you keep a festival chair in your car and hang out in the grassy area.
The building is made from the ancient cypress bones of a historic railroad depot and has a great long cypress bar which houses about 30 beer taps.  This was another nice surprise to find a variety of local beer available. (Don't worry, they also have the mass produced favorites.)
Porch & Patio is family friendly so if you are looking to get out of the house, you can bring the whole family to eat, drink, play cornhole and hopefully listen to live music. Outdoors is pet friendly but note they have a small resident dog who has free reign of the place.
The menu is pretty typical so don't expect to be blown over by food (poboys, burgers, salads, etc.). I recommend the fried shrimp po boy and the hamburger which both come with fries that are fried to perfection. People rave about the debris fries but I was a little underwhelmed (maybe it was an off night). The jalapeno poppers are stuffed with cream cheese and are a little tough to eat. But overall, we come to Porch & Patio for the atmosphere and to have a few drinks while listening to live music.
For those of you who are not familiar with Rivertown, this is where the Deutsches Haus temporarily held it's Oktoberfest festival after losing their home during the VA Hospital construction. This brought much needed attention to this quaint little neighborhood which houses a couple of theaters, restaurants and shops. I highly suggest you make the trek out here to check it out. – Karen Decker McCrossen
Visit Nola Places
We're curious about our city, and we seek the best New Orleans has to offer. Browse or sort by category: