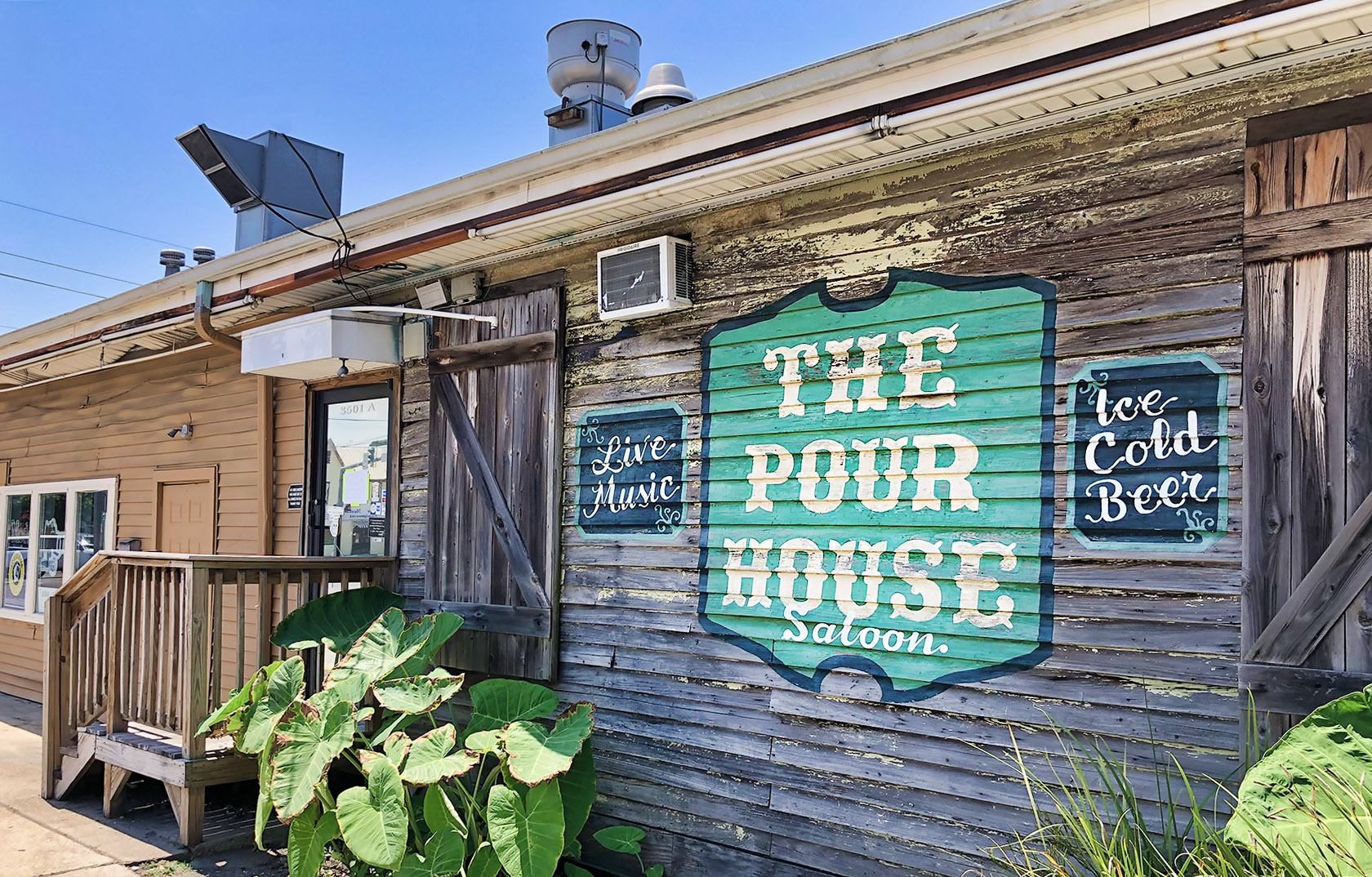 Go for: cold beer, great cocktails, and good grub (day and night)
—
The Pour House Saloon is the kind of place you go to for drinks after work, or for live music on the weekends, and for lunch in the middle of the day. I say they run a tiny, but mighty kitchen. Seriously, a steady stream of hot dishes comes out of that room out back.
The Pour House runs daily lunch specials, plus solid versions of regular pub grub. In season, you'll get crawfish boils, and occasionally — through the year — one of the regulars comes in and does char grilled oysters, too.
If you stop or stumble in, you might think the place looks like an old 1950s-style diner, and well … that's because it was. Home, for many years to the Azalea Grill, The Pour House opened shop in the back half of the building more than a decade ago, in more recent years the bar took over the whole space.
It's a comfortable room, with a ramshackle interior, and a sort of beach vibe, low-key Florida panhandle style deck. The inside walls were built from preserved cypress barge board, and give the place real character.
Bottled beers are ice cold thanks to the double-insulated custom built cold wells, and they also offer a small selection of beers on draft, including a few from local breweries such as Nola Brewing and Port Orleans.
There's a pool table, a small (not regulation) ping pong table, dart leagues and … did I mention the live music?
The Pour House features live music two-to-three nights a week. Everything from country, blues, classic rock, and even metal on a rare occasion. Sound is great inside as it bounces off the walls, and takes on a warm resonance from those barge boards, but I like the outdoor shows just as much.
The bar has an odd shape to it, and juts out just a wee bit too close to the band area, but hey … part of the charm of a place like this, and one of the great charms of seeing live music in small clubs is being up close and personal with the musicians.
Come for the likes of Shawn Williams, singer, songwriter, band leader extraordinaire; and check their calendar for other local acts. No matter who's playing it's sure to be a rocking roadhouse kind of time.
This place draws a crowd of neighborhood regulars, does a steady daytime lunch with folks from Ochsner Hospital and other nearby businesses, and at it's heart it's the kind of place service industry pros know they can count on to be there for them after working a double, as in … "pour me bourbon, and make it a double; for you can see I'm still standing up."
The short sentence in The Pour House facebook bio says it all: Cold Beer, Great Cocktails, Darts, Pool Tables, Foosball, Awesome Food… enough said! We concur. – Scott McCrossen
Visit Nola Places
We're curious about our city, and we seek the best New Orleans has to offer. Browse or sort by category: