The Elysian Bar
The Elysian Bar, in Faubourg Marigny, is located in the old rectory of the Sts. Peter and Paul Catholic Church. Ambiance, Ambiance, Ambiance! • 2317 Burgundy Street , New Orleans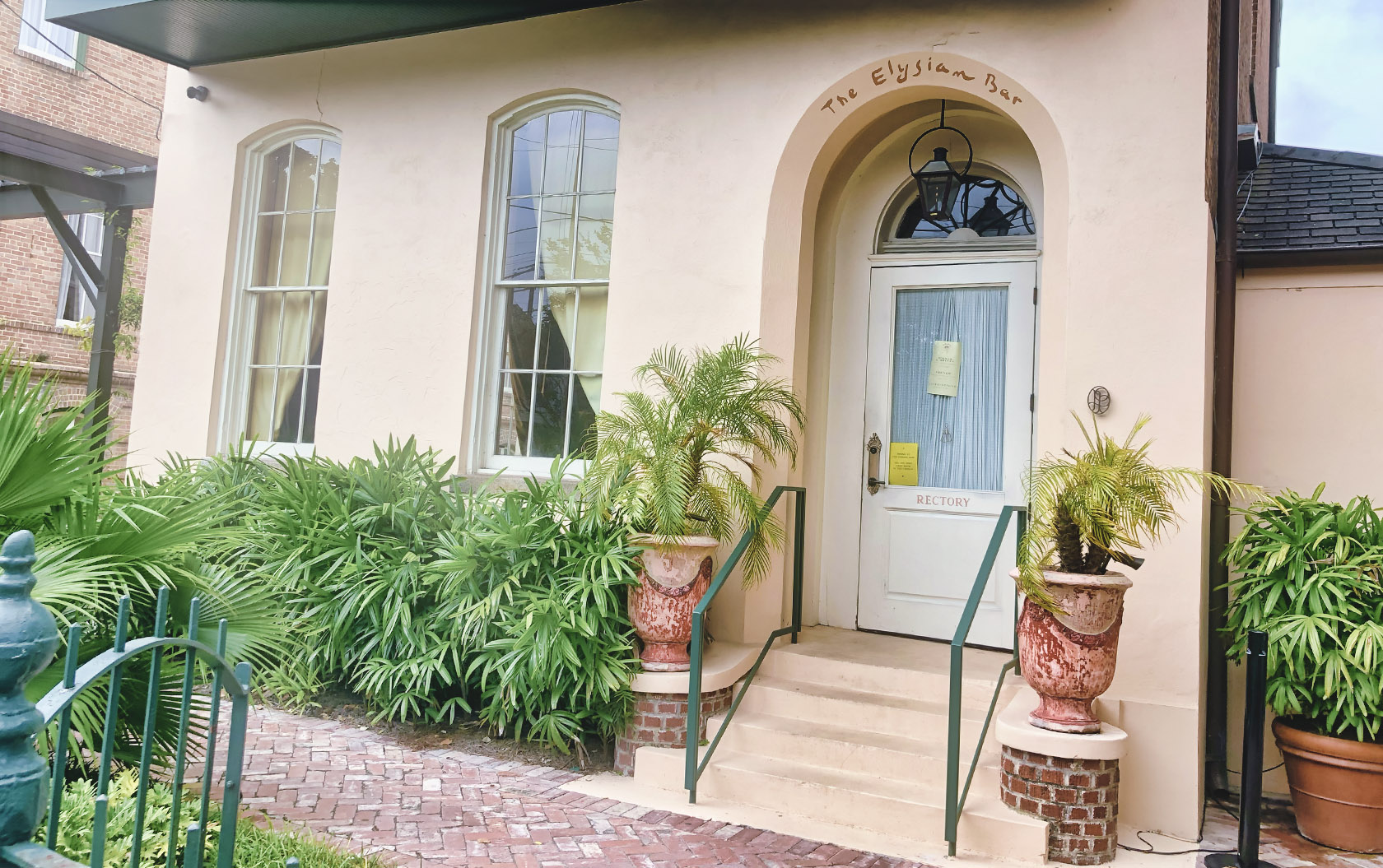 Go for: great tapas, atmosphere, signature cocktails
—
Yes. It is located on the grounds of a decommissioned Catholic church, rectory and school but it is so eclectic you wonder if The Elysian Bar has been blessed by the Holy Spirit.
The restaurant and bar are located in the rectory and the outdoor courtyard. There is a hotel on property and the old church is a great location for special events. Every detail has been taken care of from the outdoor brick buildings to the stained-glass windows.
At the Elysian Bar there are four locations for seating. As you enter the building there is a warmly lit front parlor complete with fireplace. The next room is an airy, window filled room with a cozy nook that can seat 4-6 people comfortably. The bar is towards the back of the building and reminds me of something out of Casablanca. You have to see it to experience it. The outdoor courtyard is lovely if the weather is cool.
Service is attentive but not rushed — so a leisurely meal is encouraged. Cocktails are hand crafted and must be tried. They do have signature drinks and will create a special libation just for you. I am partial to an Old Fashioned and The Elysian did not disappoint.
The items on the menu are small plates and large plates and they change quite often. Fried Brussel Sprouts, Pickled Local Veggies are examples of the small plate and for the large plates, Hanger Steak and Roasted Gulf Shrimp. Yum! They are now serving Brunch on the weekends too.
At the time I dined, there were no reservations. It was first come, first served. This may have changed so check with their website before visiting. If you are feeling lucky, ask the waitress if you can take a tour of the property. The church is amazing and how they created the perfect hotel within the school is amazing! — Christine Sory
Visit Nola Places
We're curious about our city, and we seek the best New Orleans has to offer. Browse or sort by category: