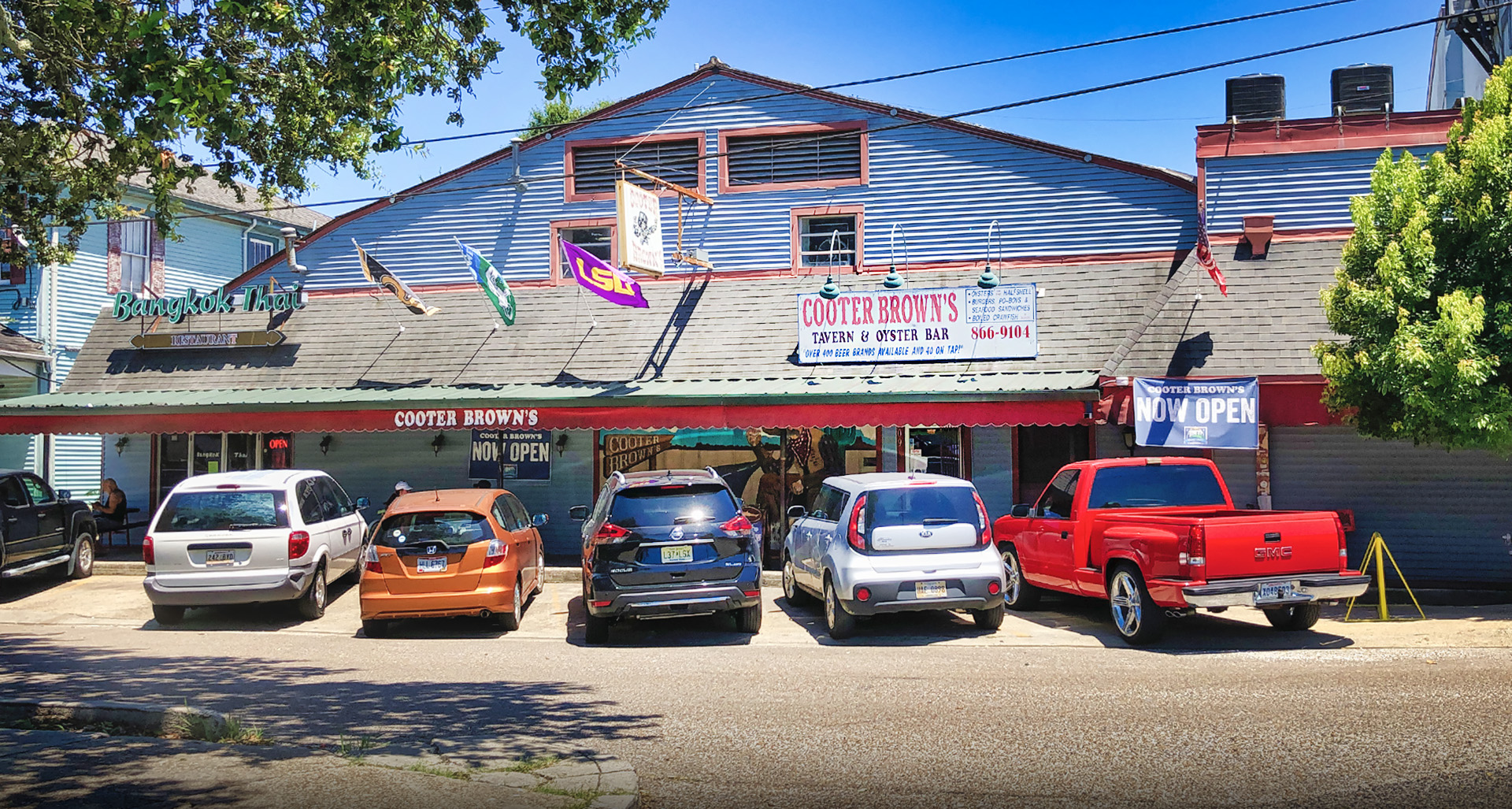 Go for: draft beers, fresh shucked oysters, great kitchen (cheese fries?)
—
Cooter Brown's Tavern is an icon at the foot of Carrollton where it meets Leake Ave.
Steps from the St. Charles Ave. streetcar, steps from the Mississippi River levee, minutes from the Jefferson parish line, and easily accessible from many points across town — this place has been serving hundreds of interesting beers (in bottles, cans, and on tap) before that was a craze or a "thing."
Cooter's is known for is wide selection of beers (N. American, and global), as well as for serving up some of the best raw oysters in town. Shucked fresh, and served on the half shell, with plenty of hot sauce, crackers, and horseradish as fixings.
The kitchen is great, too … and — it's open late.
Our friend John B., (aka, Bowlcut), says "cheese fries, cheese fries, cheese fries," are the thing to get here. We say, yea you right, but don't skip out on the onion rings, the boudin balls, and the bacon mac & cheese topped with toasted panko.
In addition to those appetizers, and the oysters, Cooter Brown's also serves up good deli style sandwiches, burgers, and a good slate of poboys.
This is a place with a convivial atmosphere. Lights are always on, seating inside and out, beer taps at the front and back bar, with more than 200 beers to choose from in all styles. Cooter Brown's is equal parts familial pub, afterwork or day-drinking watering hole, good place for a night cap, and one of the best places to watch sports year round.
With 17 of the best flat screen tv's in the city — Cooter Brown's likely is showing the game you want to see.
It get's packed on college football Saturday's, and it draws a big crowd from nearby Tulane University. It also draws a big contingent of LSU Tiger fans on most weekend's, too. I've seen large crowds from the local Mississippi State Alumni chapter, and plenty of fans from midwest schools wearing team colors. Hockey, baseball, tennis, NASCAR? It's all on here.
When college is not in session, Cooter Brown's feels like a different place, smaller crowds, wider variety of people, more of a chill attitude. When college is in session, this is still a fun place — a bit rollicking — but way cheerful, with lots of friendly people all about.
Don't forget to glance up at the walls. Gaze upon the deceased celebrities captured in artistic form in Cooter's Beersoleum. – scott mccrossen
Visit Nola Places
We're curious about our city, and we seek the best New Orleans has to offer. Browse or sort by category: