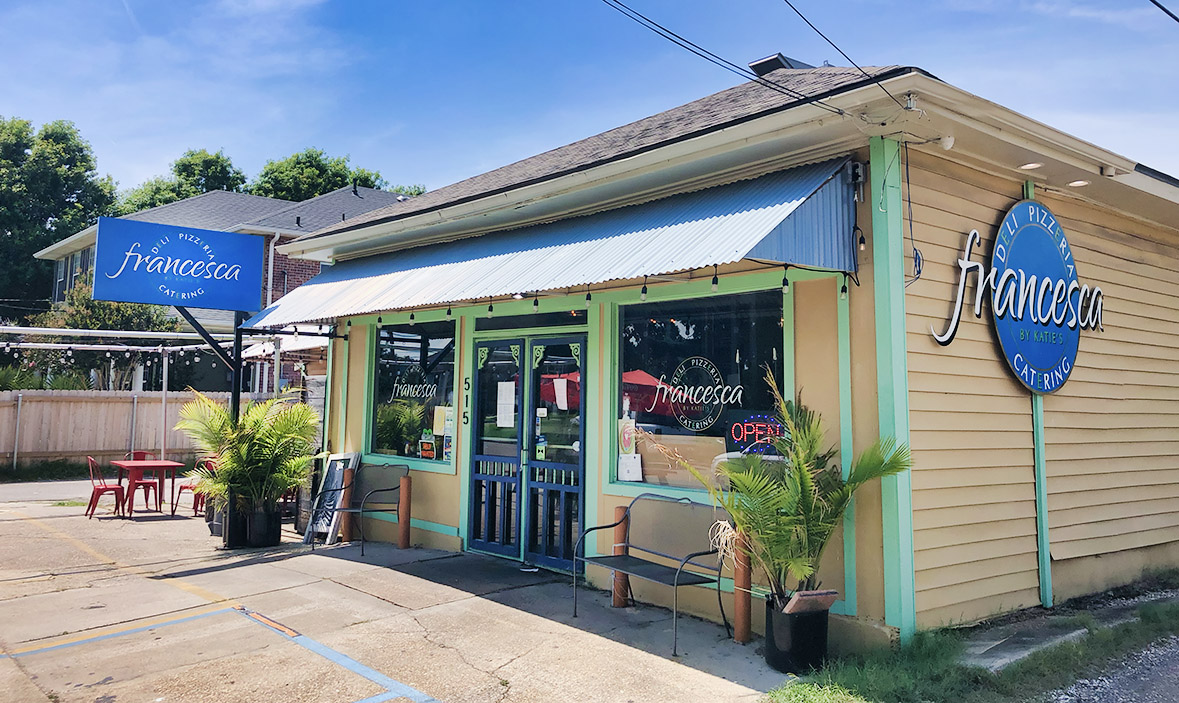 Go for: Poboys and gourmet sandwiches, pizza, and a warm + friendly atmosphere
—
Francesca Deli, Pizzeria and Catering is a casual place, run by the same family who owns Katie's in Mid City, and it is the kind of place that is inviting for meals that make you want to stay awhile.
It's part restaurant, part pizzeria, part gourmet market, part café … and it plays each of these roles well.
Francesca is located on Harrison Ave. in Lakeview, New Orleans, and it lives up to its reputation.
On repeated visits you'll engage with friendly staff, and owners are almost always on site.
It's a lunch spot — for the most part — but also is open until the early evening hours, and there is catering available, too.
The building, inside and out, is charming thanks to the renovation when this property was taken over by the Francesca team. Before Francesca, this same space was home to two famous local poboy shops: first Charlie's poboys, and more recently, Koz's Deli (now located in Harahan).
Francesca carries on the New Orleans' poboy tradition, and blends it with the style of a New Orleans' neighborhood dining room. It's like Katies gave birth to a poboy shop, added a gourmet corner, and threw in a bunch of scrumptious baked goods, just so you never have to go anywhere else.
That sounds ambitious, and it sounds like a mouthful; it is, and yet — Francesca hits high marks in all regards.
Sandwiches are a notch above many other places in town, burgers come as thick, hand-made patties, and are juicy. Salads are fresh, and come in generous portions. Side dishes are delicious and creative, such as a reliable Mac & Cheese, frips and dips (hand cut, fried chips), boudin egg rolls, fried okra, and St. Louis style fried ravioli.
Visit Nola Places
We're curious about our city, and we seek the best New Orleans has to offer. Browse or sort by category: