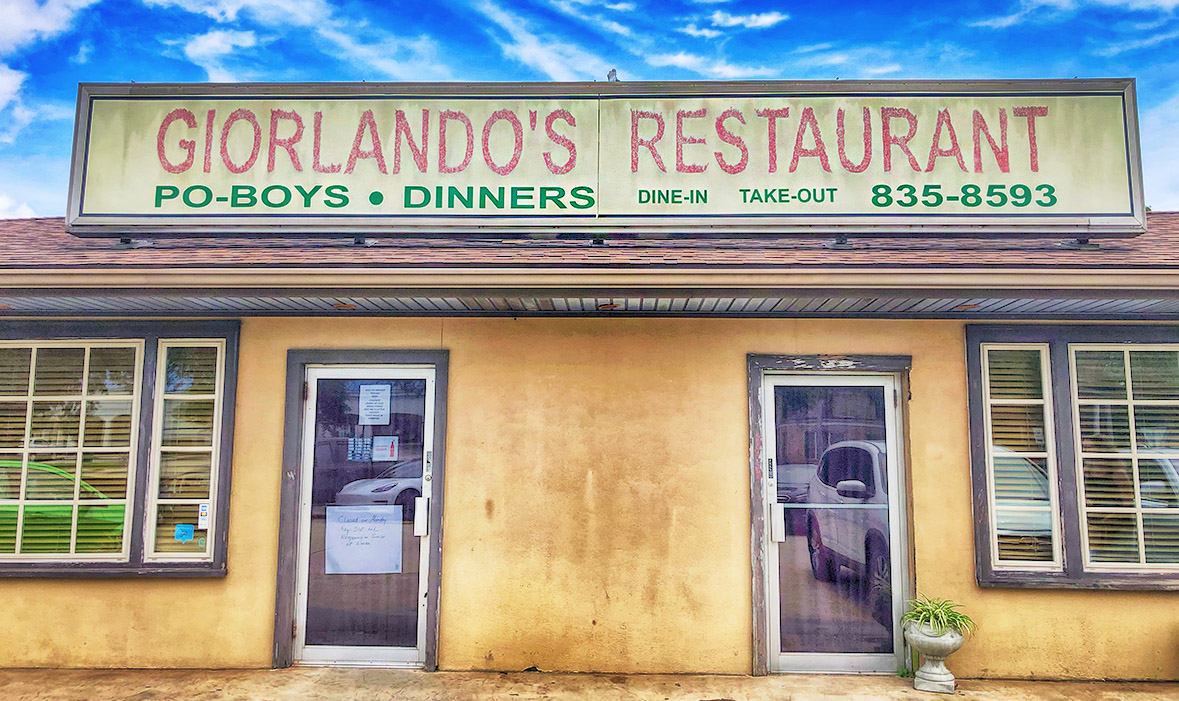 Go for: Casual Creole-New Orleans-Italian dining at its very best, lunch and dinner
—
Giorlando's Restaurant is the type of place you take your Mom & 'dem, and that's because your Mom & 'dem used to take you when you were little.
It's a classic New Orleans joint.
Down home, family-run, and consistently good. Giorlando's is one of the best spots in the city for a casual lunch or dinner.
Giorlando's was first opened in 1972 as a po-boy shop. It's expanded since then, and it;'s still run by the same family. In fact, they won't even open the doors if a Giorlando is not on site because they take pride in their creation.
Founded by Carlo and Jean, now run by brothers Paul and John — this dining room is always a hive of cheerful activity.
It has a neighborhood feel, but it is worth a drive from almost anywhere in the metro area.
Giorlando's was founded in the style of a classic, Creole Italian eatery. There are others around down, dozens in fact, yet for my money Giorlando's sits at or very near the top. It's as comfortable and reliable as any place in town. Food quality is great, with dishes made from time-honored family recipes, and service is excellent — Excellent with a capital E.
It's not rushed though, and that, too is time honored.
Invite old friends, bring the family including a few aunts and uncles, bring guests from out-of-town, and show them how real New Orleans eats weekday meals — enjoy the company, and be sure good food will follow.
Giorlando's uses seeded french bread, toasted just right, and it's a perfect delivery mechanism for a killah roast beef po-boy. They also know their way around fried seafood + hand cut french fried and house battered onion rings are great, too.
Last time I was there, I had an Italian sausage patty po-boy.
I'll let that sentence stand because even as this story ages, I'll still probably order that same lunch every other or every third time we visit.
For appetizers try the spinach and artichoke dip, lightly fried calamari, or those onion rings we mentioned.
They do po-boys for lunch and dinner, and plate dishes all day. Giorlando's also is known for a mean muffaletta – with just the right touch on the olive salad, and yes — do a double take on the menu — they have an entire Parmesan section.
Love it!
Time seems to stand still at Giorlando's, and that's not because it feels old or dated; it's because it's so darn comfortable, and you feel like you're at home. Your Maw Maw would approve. — Scott McCrossen
Visit Nola Places
We're curious about our city, and we seek the best New Orleans has to offer. Browse or sort by category: