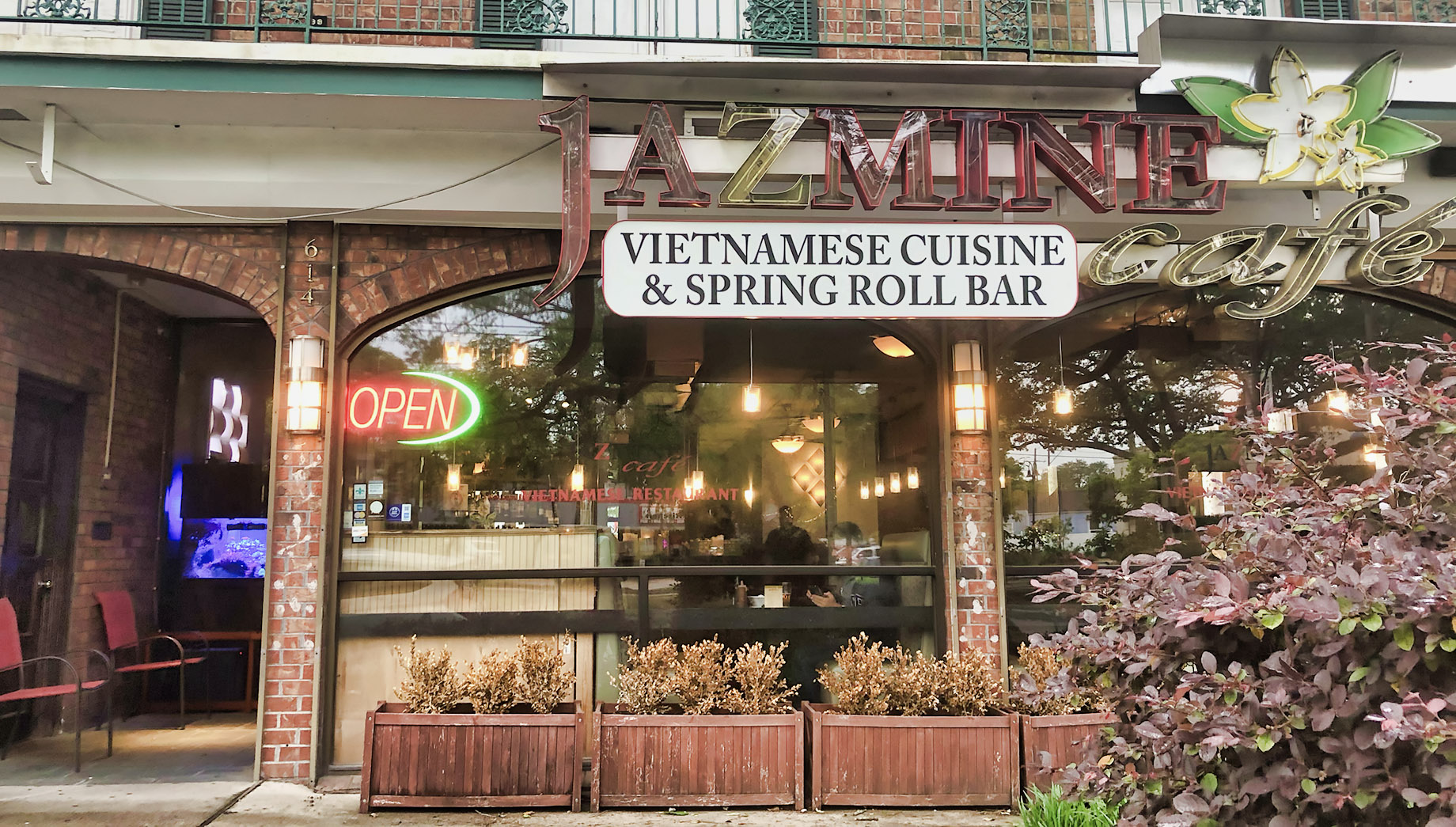 Go for: Crispy Shrimp, Spring Rolls, Bahn Mi, and Vietnamese Coffee
—
If you are in the Riverbend area and are craving some good Vietnamese food, stop in for lunch or dinner at the Jazmine Café on Carrollton Avenue.  It is always reliable and reasonably priced.
I was a little upset when the Trolley Stop Cafe closed on Carrollton many moons ago but was pleasantly surprised when Jazmine Cafe took over and thankfully has never left.  It is an unassuming restaurant and one might say it looks a little dull but the staff are always welcoming.
For starters, get the crispy shrimp.  It sounds a little boring but the freshness of the shrimp with the crispiness of the seasoned batter makes it the perfect appetizer for me.  If you are trying to avoid fried food, you can opt for the pot stickers steamed.  The stuffed jalapenos are just "okay" so if you are going for all appetizers like my sister does, take a look at the spring roll menu Jazmine Café has an entire page of the menu devoted to spring rolls.
I love a Vietnamese Po Boy (Banh Mi) and you can't go wrong with one here.  I am not a fan of the fried egg on top but of course I gave it a try here once because the waiter recommended it (but never again).
I am a fan of any grilled pork entree so one day I order it with the vermicelli bowl and the next with the rice bowl.
It wouldn't be a Vietnames place without bubble tea but if you are looking for something a little stronger, they have a full bar and several types of sake. Jazmine Café also makes some of the best Vietnamese coffee in the city, some say the best.
There are many choices when looking for good Vietnamese food but make sure you don't overlook this one.  And if you miss the old Trolley Stop, just head down to the one on St. Charles! – Karen Decker McCrossen
Visit Nola Places
We're curious about our city, and we seek the best New Orleans has to offer. Browse or sort by category: